This is another hot Kickstarter project. The Botiful is described rather technically as a "social telepresence robot for Android". Botiful uses Skype on your Android phone combined with a mobile smartphone cradle robot and custom controller software to make a cool, mobile and flexible communication device.
The Botiful Kickstarter page describes the device thus; "Botiful is the first consumer tele-presence robot. With Skype as a simple interface you or your friends can control the robot and be remotely present from anywhere in the world." The Botiful robot is basically Skype on wheels. Using a pair of wheels and a roller on its rounded triangular frame this smartphone cradle can follow your conversational partner around, watching what they do, and even interacting. As well as being able to roll around not-too-bumpy environments Botiful holds the smartphone in a cradle that can be tilt controlled. Cutesy Botiful tilting was often used in the demo video to communicate nodding or waving, as well as looking up or down.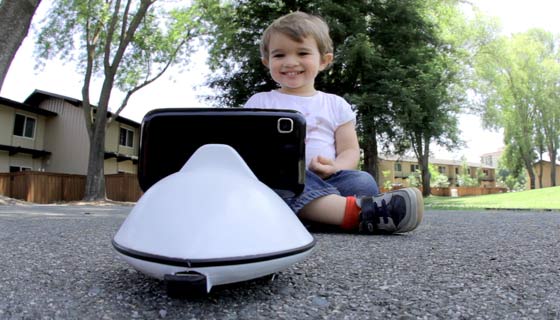 The Botiful project information page suggests that Botiful is useful for;
Skype video calls and video conferencing
Baby monitoring
Playing remotely with your children
Safely inspect areas that are heard to get to, such as under the car
Social events, almost be there when you can't be present
Visiting a place, while you are still at home
Entertain and see a pet remotely
When a friend or colleague accepts a robot enabled video call you can see the following overlay upon the video display with which to control Botiful's body and head motion. Below the directional interface there are extra robot app icons displayed.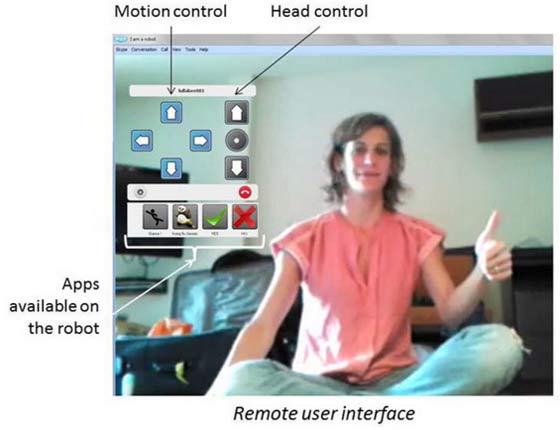 Currently the Botiful is aimed at Android smartphones only, however should the project hit the $100,000 funding level an iPhone version will be developed. On the computer side of things Botiful control software is available and working on Mac OS X, Windows and Linux (an Android version is in "alpha").
The $90k funding target of the project looks very likely to be met as Botiful has achieved backing of over $45k within 10 days and has 26 days remaining on Kickstarter. Also $100k funding also looks likely so iPhone fans should be able to use the Botiful. If you want one of the first Botiful robots then you should become one of the first 150 to pledge $199. Then, if the funding target is met, you will receive a white Botiful, saving $100 on the estimated final retail price for the unit.
Star Wars fans fast forward the video to 3.40 to see two Botiful robots in a remote controlled light sabre duel!