Bearing fruit
I attended the London presentation of the first big update of Microsoft's mobile platform - Windows Phone 7 (WP7) - yesterday, and was reminded what a feature-rich, modern platform it is. On top of that Microsoft is starting to incorporate the kind of cloud technology it used in the ill-fated Kin, as I presumed it eventually would.
But as I said while chatting to Eric Hermelee - Microsoft's UK mobile head - after the presentation, the challenge Microsoft faces is less about the quality of the product and more about momentum and mindshare, especially when compared to Android.
More on that in a bit, but first a summary of what was announced. Mango will deliver over 500 new features to WP7, probably hitting phones around a year after the launch of the platform. In effect it will be WP7 2.0. Here are the key new features:
Threads. A single IM thread incorporating text, Windows Messenger and Facebook chat.
Groups. Create a 'live tile' with a group of contacts and communicate with them collectively.
Deeper social network integration. Twitter and Linked In feeds integrated into contact cards, built-in Facebook check-ins and new face detection software that makes it easier to tag photos and post to the web.
Linked Inbox. See multiple email accounts in one linked inbox.
Hands-free messaging. Built-in voice-to-text and text-to-voice support.
App Connect. Deeper integration of apps, allowing them to be accessed contextually.
Improved Live Tiles. Get real-time information from apps without having to open them.
Multitasking. Easy switching between apps that keep running in the backgound.
Internet Explorer 9. A browser based on the IE9 and including support for HTLM5 and full hardware acceleration.
Local Scout. Local shops and services.
Bing. Improvements include picture and music searches.
Quick Cards. Summaries of certain search results.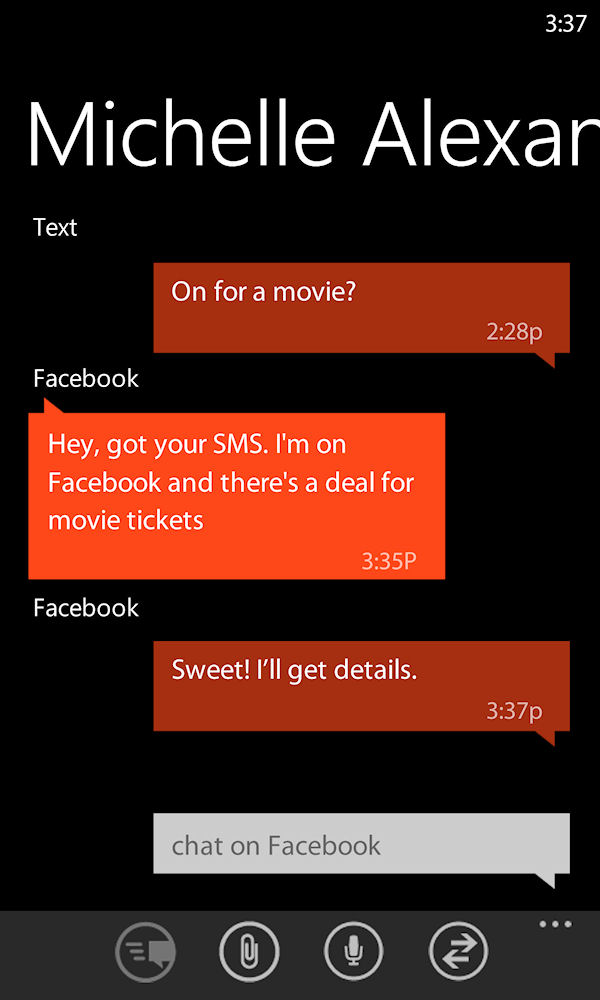 As you can see there's a big emphasis on the greater integration of features and services, be it the Unified Communications functionality of Threads and Groups, or the more intuitive accessing of apps. Noting there are already 18,000 apps in the Windows Marketplace, WP7 marketing veep Achim Berg (pictured) said "We've reinvented the way apps work on a phone today - consumers want deeply embedded apps."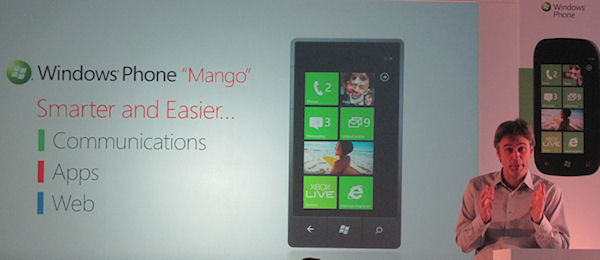 To show off WP7's app goodness Microsoft highlighted a new app from British Airways, which can do clever things like give you a 3D seating plan, realtime flight updates, and enable you to save an electronic boarding pass onto your phone.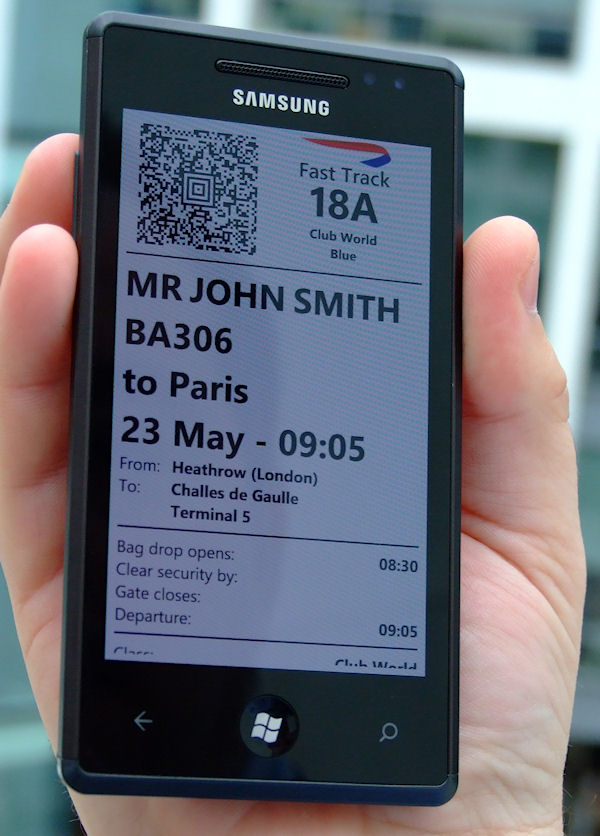 Something that went relatively unheralded was 'out-of-the-box' support for Office 365 and Skydrive. I was a bit surprised at the lack of cloudy goodness when I explored Office on WP7 a few months ago, but this looks set to improve.
Microsoft is quite rightly sticking with a strategy of integrating with the cloud, but also providing local storage. As Hermelee mentioned in our chat, the recent issues faced by Sony, Amazon, Blogger and Microsoft itself show how risky relying entirely on the cloud still is, but that doesn't mean you can't have the best of both worlds.
Office is a big string to Microsoft's bow, but it's only through robust collaboration infrastructure that it becomes really useful as a mobile proposition. Now, when you muck about with an Office document on your phone, it automatically syncs with the cloud, giving you both a backup and the ability to share it with others.
This sort of cloud functionality is reminiscent of what Microsoft was trying with the Kin, which was brought to the market so incompetently that Microsoft withdrew it within three months of its launch. But while the execution was bad, the real-time cloud link it offered seemed promising, and I always figured it would be resurrected in the main platform.
But the lessons of Kin need to stay learned - you can have all the groovy functionality in the world, but if it's delivered in a device that looks like a Speak & Spell, and poorly marketed, you might as well give up now.
To a large extent this is where Nokia comes in. Microsoft paid lip service to its existing partners - Samsung, HTC and LG - and even added a few more - Acer, Fujitsu and ZTE - but it's clearer than ever that the future success of WP7 depends almost entirely on Nokia.
At this event it was revealed that Nokia's first WP7 devices would run Mango, and in a recent interview with Forbes Nokia smartphone boss Jo Harlow expressed optimism about hitting the target of launching a WP7 device before the end of the year.
Qualcomm was quick to announce Microsoft is sticking with Snapdragon for Mango, and this presumably means Nokia too. This will surely mean at least the dual-core MSM 8260 in Nokia's first WP7 phones, but the MSM 8960, which features two of Qualcomm's new Krait cores and clocks up to 2.5 GHz, would be a nice surprise.
My feeling is that if consumers spend quality time with WP7, they will come to appreciate all the unique things if offers, which make it not just a viable alternative to iOS and Android, but in some cases preferable. But the challenge is getting prominence with vendors, buy-in from shop assistants and influencers, and just getting more credibility in general.
To what extent the Windows brand is a disadvantage in the mobile space remains unclear, but I suspect it is. It's an old brand that's associated with beige boxes and the workplace. Microsoft's biggest success in terms of diversification has been the Xbox, where the Microsoft brand is very much kept in the background. The same goes for things like Bing and Zune. If I was Steve Ballmer I'd just refer to it as the acronym WP7 from now on.
Just like with the Xbox, Microsoft is clearly prepared to keep chucking money at WP7 until it succeeds. But I still can't help feeling the first wave of Nokia WP7 phones will be critical. They will have to over-deliver to overcome the scepticism and apathy currently directed at both Nokia and WP7, but if they do we could be talking about how the two Steves summoned a phoenix from the flames a year from now.
I'll leave you with a couple of vids.