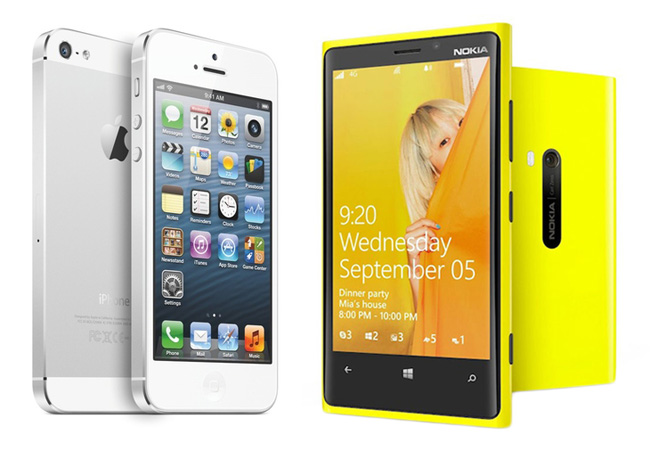 It's a great time to be on the hunt for a new smartphone, isn't it? In the past fortnight Apple has unveiled the long-awaited iPhone 5 and Nokia has put forth some serious competition in the form of the Lumia 920.
There's no denying that both are epic handsets, despite the fact that both Apple and Nokia failed to truly spark the imagination at their respective press events. Apple's announcements proved to be predictable; the new iPhone is thinner, lighter and faster, but, dare we say it, the handset's an evolution of a design that first debuted over five years ago and it's beginning to look a bit 'same old, same old'.
But that's no bad thing - you know what you're going to get with an iPhone. The fifth iteration will be exquisitely crafted from the finest materials, the upgraded internals will make it speedier than ever before, the camera will continue to act as a viable alternative to a point-and-shoot, and of course there's that unmistakable brand identity. And don't underestimate the importance of the latter; quite a few will buy the iPhone 5 regardless.
Apple's unveiling got straight to the point, but Nokia's introduction of the Lumia 920 came across as uncertain. Unfinished Windows Phone 8 software, faked 'PureView' advertisements, and no mention of a price or release date were just some of the failings. But irrespective of Nokia's stumbling announcement, the Lumia 920 still has the ability to shine; its camera may well be a cut above the competition, Microsoft's Windows Phone 8 software looks fresh and inviting, and with technologies such as NFC and wireless charging, Nokia's pulling out all the stops in an effort to reclaim the smartphone market share it thinks it deserves.
You've seen the handsets, you've read the media response, now it's time to have your say: iPhone 5 vs. Lumia 920, what's it to be? Have you decided to buy either of these handsets, or have Apple and Nokia failed to convince you to upgrade? And if so, is your heart set on a different device? Let us know in the comments below.