Moving to lure yet more phone users away from the comfort zone that is a device with tactile feedback, Steve Jobs this week cut the price of the iPhone to two thirds of its launch price. In response to the furore from avid, but out of pocket Apple fans, Jobs was compelled to write an open letter to the masses.
So we read between the lines. Now we can bring you a decomposition of his letter - what he says, and what he means - or at least what we think he means.
---
"To all iPhone customers:"
To all you suckers out there:
"I have received hundreds of emails from iPhone customers who are upset about Apple dropping the price of iPhone by $200 two months after it went on sale. After reading every one of these emails, I have some observations and conclusions."
I've had to delete hundreds of e-mails from followers of mine, upset about us cutting the iPhone price to two thirds of launch price after just two months. Unfortunately, I started reading one before I realised what it was, so now I'm compelled to respond.
Hear ye, for the lord speaketh...
"First, I am sure that we are making the correct decision to lower the price of the 8GB iPhone from $599 to $399, and that now is the right time to do it. iPhone is a breakthrough product, and we have the chance to 'go for it' this holiday season. iPhone is so far ahead of the competition, and now it will be affordable by even more customers. It benefits both Apple and every iPhone user to get as many new customers as possible in the iPhone 'tent'. We strongly believe the $399 price will help us do just that this holiday season."
Now that the early adopters are drying up, I decided to lower the price of the 8GB iPhone to what we originally intended to sell it at. My henchmen advised me well - there's one born every minute.
iPhone is a massively over-hyped product, and by stabbing our first two months-worth of iPhone customers in the back, we can really muster up some publicity for the device this holiday season.
The iPhone is a device delivered from the heavens itself. Man is barely worthy of possessing it, but I have decreed that everyone in the world shall own one. People the world over will flock to buy it at its new $399 price.
"Second, being in technology for 30+ years I can attest to the fact that the technology road is bumpy. There is always change and improvement, and there is always someone who bought a product before a particular cutoff date and misses the new price or the new operating system or the new whatever. This is life in the technology lane. If you always wait for the next price cut or to buy the new improved model, you'll never buy any technology product because there is always something better and less expensive on the horizon. The good news is that if you buy products from companies that support them well, like Apple tries to do, you will receive years of useful and satisfying service from them even as newer models are introduced."
The second reason is this: Having been convincing people that our stuff is cool since the dawn of the universe itself, I'm getting good at it. I can always make sure plenty of people will shell out for a product before we introduce a lower price.
There is always something better around the corner, but you cannot wait around in this life. You must buy everything; be the best and make everyone envy you. Your bank manager will love you, and our shareholders will love us.
"Third, even though we are making the right decision to lower the price of iPhone, and even though the technology road is bumpy, we need to do a better job taking care of our early iPhone customers as we aggressively go after new ones with a lower price. Our early customers trusted us, and we must live up to that trust with our actions in moments like these."
And even though I have every right to screw each and every one of you over, I'm still going to pacify you all with platitudes and meaningless preaching.
"Therefore, we have decided to offer every iPhone customer who purchased an iPhone from either Apple or AT&T, and who is not receiving a rebate or any other consideration, a $100 store credit towards the purchase of any product at an Apple Retail Store or the Apple Online Store. Details are still being worked out and will be posted on Apple's website next week. Stay tuned."
Oh, and we're going to encourage those of you stupid enough to pay $600 for a phone to go and buy even more stuff, because we know you'll do it. It will make our sales figures look ace, too.
We're still working out how to convince you to put the credit towards a second iPhone - or indeed the new iPod touch, which was probably the device you wanted in the first place (clever of us to hold off on it, just like the price cut, right?) - please send all ideas in on a postcard.
"We want to do the right thing for our valued iPhone customers. We apologize for disappointing some of you, and we are doing our best to live up to your high expectations of Apple."
We want to reap in the cash from our valuable followers. Remember, when the iPhone battery breaks out of warranty, you'll have travelled a long journey and come to realise how great Apple is. Your payment for the repair of your iPhone will be considered an apology.
We graciously accept.
---
So there you have it. That's our interpretation of Steve Jobs' open letter to his angry customers. Although exactly what goes on in the mind of the demi-god, we cannot know.
One thing we can be sure of though, is that most of the poor, misguided, ripped-off, yet devoted customers will now be content again, knowing they can go spend even more money on Apple's wares.
When you're as cool as Apple, you can do no wrong.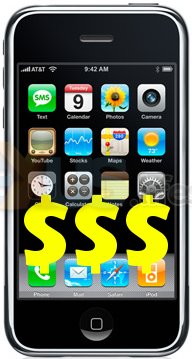 HEXUS Links