Out of the box
Visually, if you compare the Pyra to a standard gaming mouse you'll really see the difference. For gaming, I've been using the much larger Logitech G500, so when swapping these over to test the Pyra out it appears remarkably smaller, obviously designed to be taken on the move. Measuring 9.6 x 6cm I can cover the Pyra totally with my palm and it also feels light to carry around, weighing in at just 90g.

First impressions, however, are excellent. This is an attractive looking mouse with an oblong shape and angular design with pointed corners. On the face of the mouse you've got a wide rubberised scroll wheel that has a vertical line running out of its centre that goes down about 3/4 of the body. When the mouse is running low on power, this is where you'll see the blue glow that indicates that it needs charging. Finally, on the right side of the scroll wheel you've got the engraved ROCCAT logo. The Pyra offers, on first glance, five buttons, the left and right mouse ones, a thumb and ring finger button on the each side, and the scroll wheel button. So, compared to many of the mice we get to review that are crammed with a multitude of buttons, the Pyra despite sporting a very stylish and streamlined design, looks very basic.

The only difference between the wired and wireless version is the tiny USB port that sits on the front of the mouse, the battery compartment underneath with a wireless synch button next to it and an area where you can store the micro USB. The blue optical sensor offers 1600 dpi, 30Gs of acceleration and 1000Hz polling rate.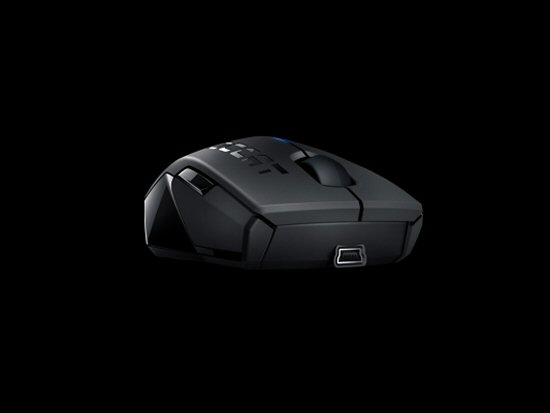 Continued overleaf...