Microsoft has announced a smaller, sleeker Xbox One console at E3 in Los Angeles.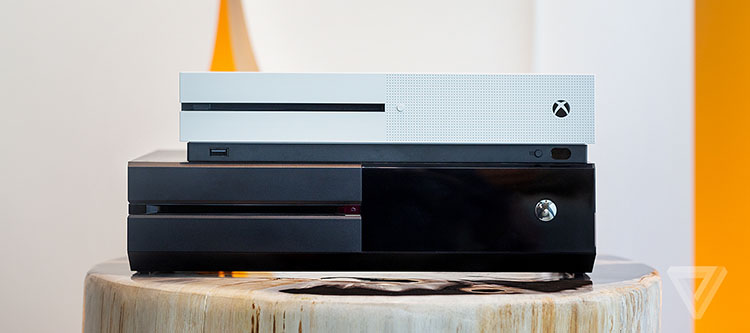 Image credit: The Verge
Dubbed Xbox One S, the new console, available in August, is 40 per cent smaller than the current model and, usefully, will integrate the power supply into the chassis itself, so no more bulky adapter. Fully compatible with the current Xbox One, the S has a new lick of paint, referred to as 'robot white', and it can also be stood up vertically by using a new stand.
There's a bit more to it than a shrink and a nice paint job, though, as the S supports 4K Ultra-HD for Blu-ray movies and content streamed from partners like Netflix and Amazon Video. HDR capabilities are present too, though there aren't many televisions that can render true high-dynamic range right now.
What's conspicuous by its absence is the Kinect sensor port, and you will need a USB adapter for full functionality. The controller has had a slight makeover, as well; it now has a textured grip on the back and Bluetooth for easy connection to Windows 10 PCs and laptops.
Microsoft says that a limited-edition 2TB Xbox One S will be available for pre-order today at selected retailers including the MS Store, Game, Argos, Amazon and Shop Direct, priced at £349. 500GB- and 1TB-equipped will follow in due course.
Xbox One S is more of a redesign than technical upgrade, unlike the rival PlayStation 4.5 (Neo). Microsoft's plans for console 4K gaming and VR will take the form of new hardware called Project Scorpio, which is due to debut during the holidays season in 2017 (most likely November) and is, according to Microsoft, the 'most powerful console ever created, with 6 teraflops of GPU performance.' It's somewhat strange to announce a console so early, when the official name is not set, but we imagine Microsoft doesn't want Sony to claim all the VR and 4K headlines at the show.
Other than the beefier GPU, which is over 4x as powerful as the one in the Xbox One/S, nothing concrete is known about Project Scorpio. Backwards compatible with the current Xbox One, we imagine Scorpio will be able to maintain a solid 1080p60 in all games whilst giving 4K a good go.