Just ahead of Gamescom opening today Microsoft held a special event in Cologne. The presentation was called the 'Xbox Briefing' and encompassed lots of games announcements for Xbox and PC, gaming technology announcements and a smattering of games hardware news.
Games titles
The following Xbox One and Windows 10 games were added to the roster announced at E3 2015. Xbox exclusives include Crackdown 3, Quantum Break and Scalebound. A number of Xbox plus Windows 10 exclusives were announced such as Halo Wars 2 and Killer Instinct Season 3.
Furthermore non-exclusive games such as Dark Souls III, Homefront: The Revolution, Rise of the Tomb Raider, FIFA 16, Just Cause 3, Tom Clancy's Rainbow Six Siege and Cobalt were shown off. There will be more than 30 indie titles coming to Windows 10, plus there are 150 more in the pipeline, thanks to ID@Xbox.
In other game announcements the Rare Replay compendium was launched and 343 Industries will return to eSports via the Halo World Championship with a $1 million prize pool.
Games technology
Microsoft announced that DVR for Over-the-Air TV is coming to Xbox One as a subscription-free service in 2016. The content you record from TV will only be limited by your HDD capacity. You will be able to stream the recorded content to other devices in your home or download it to your Windows 10 phone, PC or tablet to watch on the bus, train or wherever. As well as using the Xbox app on Windows 10 you can schedule recordings via Xbox SmartGlass for iOS and Android.
The Xbox One Backward Compatibility program will launch in November. Microsoft says that 100 Xbox 360 titles will be compatible from the start. Launch title compatibility includes Gears of War and Shadow Complex. In testing the new feature Xbox One preview members have already racked up 83 years playing the old 360 classics. There are hundreds more titles to follow and all future Xbox 360 Games with Gold titles will be playable on Xbox One.
Xbox One users will benefit from a completely new UI from November when Windows 10 with Cortana and modern apps come to the console.
Hardware
Microsoft announced a couple of new Xbox One bundles. There will be the Xbox One Halo 5: Guardians Limited Edition Bundle with a 1TB drive available from 20th October. The bundle will include "a custom-designed console and controller, a full game download of Halo 5: Guardians, the Warzone REQ Bundle that includes 14 premium Requisition Packs, access to Halo: The Fall of Reach animated series, and more." Price is $499.99/£399/499 euros. For FIFA fans there will be a choice of Xbox One 1TB and 500GB EA Sports FIFA 16 Bundles.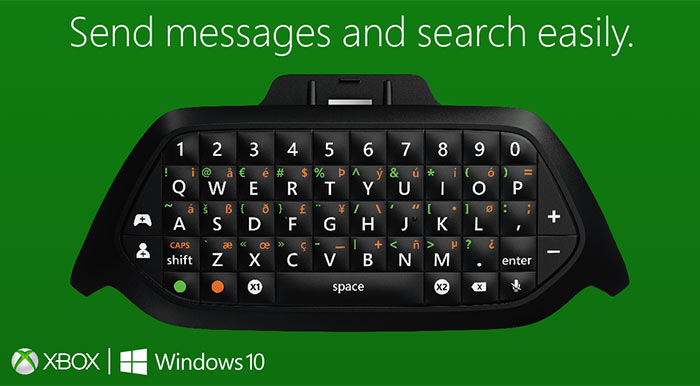 There were a number of new peripherals announced at the Gamescom event. The Xbox Chatpad is a keyboard attachment for the gamepad, as pictured above.
Microsoft also showed off an Xbox One Limited Edition Halo 5: Guardians Wireless Controller and an Xbox One Limited Edition Halo 5: Guardians "The Master Chief" Wireless Controller. Both those controllers cost $69.99/£59.99/69.99 euros.