A large portion of couch potatoes have become less active. According to news from Microsoft, 20 million Xbox Live subscribers now spend more time watching streaming content services than actually playing games on the machine. Microsoft has been trying to get this kind of presence in the living room for

quite a long time

. In 1997 Microsoft bought out WebTV to try and get its web set-top boxes in the living room, but it never really took off. In 1999 Microsoft worked with Sega to bring WebTV to the Dreamcast, but that never really took off, either. In 2006 Microsoft released an HD DVD drive to accompany the new Xbox 360, which never really took off - notice a pattern? The rival Sony PlayStation 3 chose the winner in that format war - the Blu-ray optical drive. However broadband

has taken off

, streaming services have matured, buying content online has improved with fast and streamlined "app stores" and one-click ordering.

It's never been so effortless to buy stuff online.

Incidentally, some tech commentators say this ease/speed of purchasing is a better way to fight piracy than all the copy protection and DRM efforts of previous years.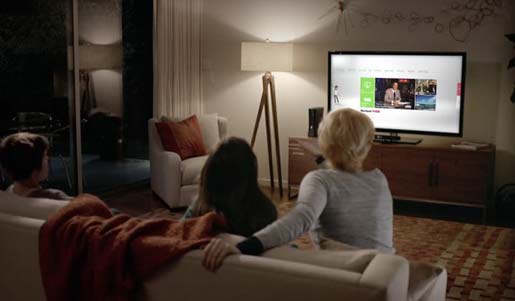 Yusuf Mehdi, head of marketing and strategy for Microsoft's Xbox business, said households now spend an average of 84 hours a month on the Xbox Live online service playing games, watching videos and listening to music, up 30 per cent from a year ago. Game-playing time was less than 50 per cent of the total time, on average. "What we're seeing is that people are turning on the Xbox to play games and then keeping it on afterwards to get other types of entertainment," explained Mehdi to the LA Times. He also admitted that the original Xbox also had been intended to be the home entertainment hub but in that respect, it never really succeeded.

In the US Microsoft Xbox Live can offer 36 entertainment applications including the following, depending on your pay subscriptions; HBO Go, Netflix, ESPN, Hulu, MLB, Comcast Xfinity, Vudu, and YouTube.



In the UK Microsoft Xbox Live service offers entertainment applications including broadcasters such as BBC iPlayer, Sky Go (32 live channels and 100s of movies and shows on demand), 4oD, LoveFilm, Netflix and YouTube.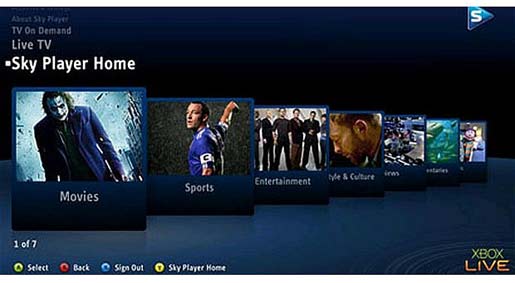 Using the updateable dashboard Microsoft has been able to alter the look, functionality and focus of the Xbox interface to gradually reposition the console. It's shifted from games to online games and these monetisable new media channels have become more and more prominent. With the Kinect motion accessory users can also control all the content with gestures and voice commands making the console even more family-friendly. Xbox Live is really becoming more rounded in its entertainment options, not only being much more feature rich than the rival Sony PlayStation Network but also keeping AppleTV and Google TV at bay, for now.