Motion Capturing the Moves
Justin Sheffield, Producer for FIFA Street 3, writes about the motion capture sessions in Barcelona:

When it came to collecting motion capture data for the moves you see in FIFA Street 3 we had some pretty unique sources compared to all the simulation football titles I've been involved with in the past. I mean, you know the football game you're working on is going to be cool when it includes a guy with his own posse, a former Jackie Chan bad guy and a red-headed ninja.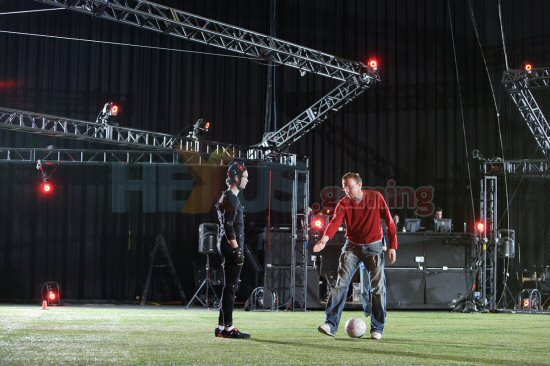 Click for larger image



Last year in Barcelona, Spain, FIFA Street 3 teamed up with the FIFA 08 team to motion capture the amazing Ronaldinho. During a marathon shoot that same day we had collected a ton of good data from guys like Sergio Ramos, Miroslav Klose, Tranquillo Barnetta and Andreas Ivanschitz – doing a combination of 'standard' moves, like trapping, passing and shooting, along with some more trick-based and beat moves. They had a lot of fun and were fun to watch – putting their schoolyard moves to use against each other for the first time in a long time.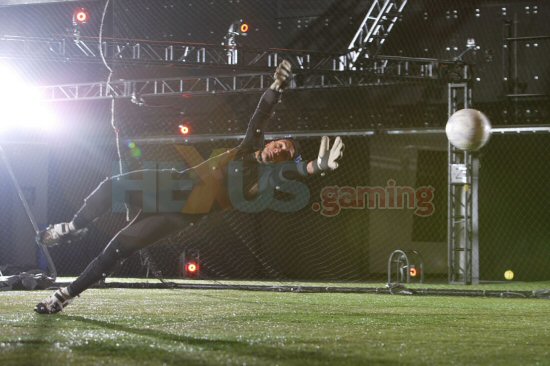 Click for larger image



Then in walks Ronaldinho with friends, family, and his personal assistant. He's wearing a sleeveless t-shirt, board shorts, flip flops and sunglasses that look like they cost more than my car. And he's beaming – this isn't just a photo-op for him – he loves to play football in any form. He gets suited up and into the capture space (that took our team days of around-the-clock work to get it all set up) and immediately we start rolling – right after he asks through his interpreter to have us crank up some music so he can get into the mood.

The things he can do with a football are magic – he makes it look effortless, laughing and dancing (hence the music request) the whole time. We kept throwing different moves at him – and he pulled off every one – then threw in a bunch of his own. The best part had to be when he asked one of his friends to come out into the mocap space so he could show off about a dozen different nutmegs. It was a good laugh, but hey – it made it into our game!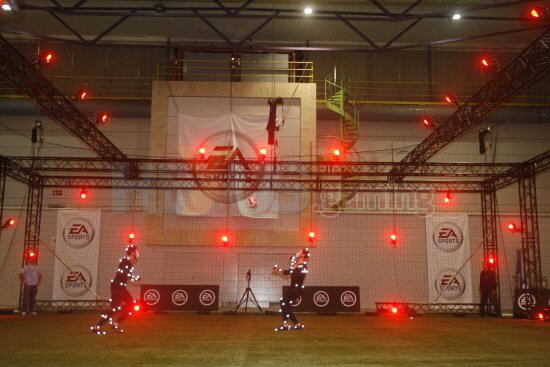 Click for larger image



Back in Burnaby, BC, we didn't have as many members of the press to watch world-class footballers, but we got some more amazing data that you see in FIFA Street 3. Whenever we do motion capture that goes beyond the normal sports game, we get to work with our stunt coordinator, Bruce, who used to work in Hong Kong, getting beat up by Jackie Chan in kung fu movies (he played the anonymous moustached bad guy!) His experience came into play when we brought in a parkour / martial arts / gymnast to get some of the moves that you see when you're in gamebreaker or running off of the walls. Jesse, who calls himself 'the ginger ninja' (he's a redhead) got put through the paces – leaps and kicks that became spectacular keeper saves, flips off of padded walls, then shoulder plants, cartwheels and butterfly kicks off of Bruce's back to bring us the two-man beat moves that you will see during gamebreaker nutmegs.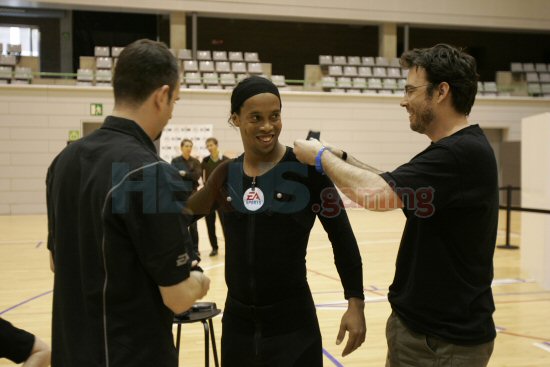 Click for larger image



All that data comes back off the Astroturf and across the street to our development studios – then it's up to our team of animators and AI engineers to translate this gold into football moves. Their hard work makes sure you not only enjoy watching this stuff, but also that you never feel like you're in a canned animation – it's fluid, responsive and if time's running out in the middle of your ninja-inspired move – dish it off to a Finisher and fire away. FIFA Street 3 came from a lot of weird sources, but sometimes it still comes down to next goal wins!