Unable to hold-in its excitement, Nintendo held a last minute press conference over the weekend, in the run-up to E3. It opened, stating that the vast majority of its E3 focus will be on its upcoming Wii U platform, which excites us a little, as often, console makers like to focus on their existing products that are already out in the market and making money now.
It's easy to forget, with the focus on its new controllers, that the Wii U isn't just an extension to the existing Wii and is expected to have performance exceeding Microsoft's current Xbox 360 and Sony's PlayStation 3, utilising a PowerPC 7-like processor and a modern Radeon HD graphics card.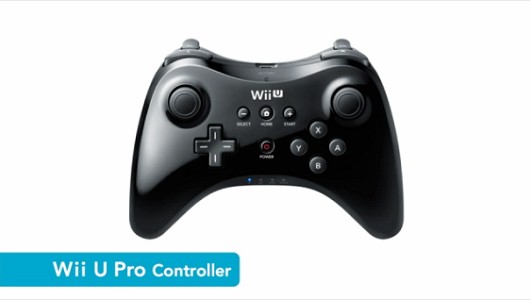 Nintendo's still keeping a lid on the exact specs, however, either way, with next-gen consoles from the competition at least a year away, the Wii U is going to feel like it packs one heck of a punch when it's first released and, Nintendo's looking to capitalise on this, by announcing the 'Wii U Pro Controller', which conforms to the design of the traditional controller, not too dissimilar from the Xbox 360's controller.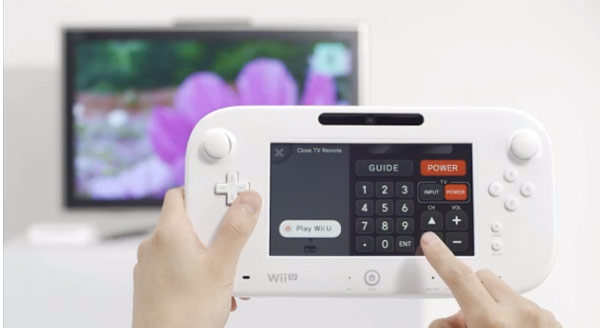 Nintendo also unveiled the final design of its 'Wii U GamePad', which is the name it has chosen for its controller-come-monitor that has been the Wii U's unique selling point since day one. The final design has been upgraded to feature two full analogue sticks, not repeating the mistake that Sony had made with the original PlayStation Portable, avoiding the use of any pseudo-analogue sticks. Nintendo has made other minor adjustments to the ergonomics, letting go of the notion that the GamePad is somehow a gigantic Nintendo DS, the firm has been able to drop its focus on a thin and portable profile, improving rear grips and shifting buttons for comfort as opposed to compactness.
The GamePad now has a mark in the bottom-left corner, clearly identifying the location of the NFC reader/writer. We can see some really interesting uses for this in the future, though we expect Pokémon and Yu-Gi-Oh! trading cards may be the first to make use of this new technology. In an attempt to capture a few more users, Nintendo has extended full TV-remote functionality to the GamePad, utilising its on-board infra-red sensor, which can function even if the main console is turned off. Taking matters a step further, the GamePad will feature a fully touch-enabled web-browser, capable of private local browsing, or sharing of content on the big screen.
Nintendo did also take the chance to reiterate that all existing Wii controllers will continue to function with the Wii U.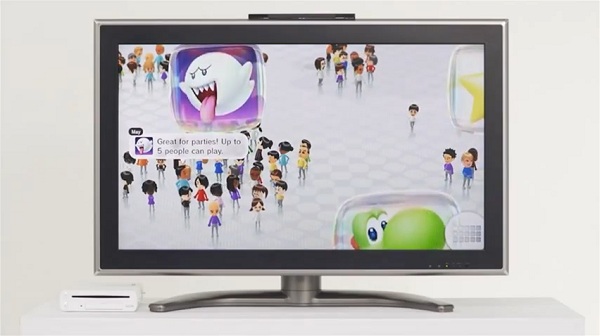 The most interesting of Nintendo's announcement perhaps, however, was the introduction of Miiverse, which wraps Facebook, Twitter and forum like functionality into one. With users able to update their status, join discussion groups and host webcam sessions from their GamePad, with Nintendo looking to extend access to the new service to the 3DS, mobiles and beyond. The firm is really pushing to integrate this new service into the core of the Wii U and, in fact, when the console is first turned on, whilst the menu will appear on the Wii GamePad, the TV initially displays Miis of same-language gamers, gathered around icons of specific games, even those you don't own, generating live chat bubbles.
Whilst the service can be accessed at any time, without closing a game, through the Home button, developers can also integrate functionality into their games, opening up an amazing world of prospects for social world-maps or MMO-like functionality.
Nintendo has really expanded our view of the Wii U, beyond just what gameplay is possible with its new controller to a full ecosystem that has serious appeal. It's a well thought-out business model too, creating a large and dedicated gaming community, offering them every method under the sun for communication, integrating the struggling 3DS into this ecosystem, making the most of the GamePad for video, touch-typing and even hand-written messages; attracting gamers to new products that they don't currently own by exposing them to live chit-chat and tying in the console with physical products such as trading cards and figures through NFC; even attempting to capture hardcore gamers with improved graphics and a traditional controller. Nintendo has clearly put some serious thought and development work into the Wii U, attempting to make it a console for every need, it'll be interesting to see if, with the Wii seen as a bit of a gimmick by many, Nintendo will be able to attract the full bredth and overall number of customers it's aiming for. Good luck, Nintendo.