Logitech has today announced its Speed Force Wireless racing wheel - the first force-feedback wheel for Nintendo's Wii console.
The latest in the long list of Wii peripherals, pictured below, utilises 2.4GHz wireless technology that promises a range of up to 30ft. There are no pedals, and the easy-to-store wheel provides built-in analog accelerate and brake controls. It offers 200-degree rotation, and the force feedback technology will simulate bumps, crashes and traction loss.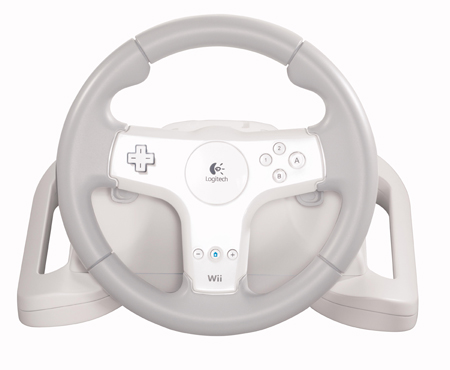 Sounds like a whole lot of fun, and it could bring a whole new meaning to Mario Kart's banana skins, right? Nope, we're afraid not. At launch, the Logitech Speed Force Wheel will only work with EA's Need for Speed Undercover.
Logitech does state that the wheel "paves the way for more force feedback racing titles on the Wii", so other forthcoming titles will likely be force-feedback ready. But, we're hoping that Nintendo will pull some strings and add force-feedback functionality to the hugely-popular Mario Kart.
Though the wheel looks the part, it's in keeping with the Wii's easy-to-use philosophy. Hardcore racers will point out that there's no pedals or gear stick, but the majority of Wii users will appreciate the simple design - and the expandable lap rest for added comfort.
Setup involves plugging a USB receiver to the Wii console, and plugging the wheel into a mains power socket (yep, as with most wheels, it's not completely wireless). When you're done, the USB receiver can be stored in the wheel's bottom-mounted compartment. Handy.
The Logitech Speed Force Wireless wheel is currently on track for a November release, and will land at a suggested retail price of £59.99.
Official press release: Logitech Introduces First Force Feedback Wheel for Wii