The Rock Band franchise is to spread its wings later this year with a version exclusive to PSP.

Rock Band Unplugged will feature over 40 master-recordings including nine exclusive new songs that will debut on the PSP system before being offered as downloadable content for console versions of Rock Band. Plus, Rock Band Unplugged will include the first fully-featured in-game store for downloadable content on the PSP. The in-game store will be powered by PlayStation Network, and players will be able to use their existing PlayStation Network account to purchase tracks, similar to the Rock Band console experience. PSP system owners will also have the option of purchasing tracks via PlayStation Store on the PC.

The following tracks will launch exclusively through Rock Band Unplugged on the PSP system for a limited time before becoming downloadable content for the other platforms:

• 3 Doors Down - "Kryptonite"
• AFI - "Miss Murder"
• Alice in Chains - "Would?"
• Audioslave - "Gasoline"
• Black Tide - "Show Me the Way"
• Blink 182 - "What's My Age Again"
• Freezepop - "Less Talk More Rokk"
• Jackson 5 - "ABC"
• Tenacious D - "Rock Your Socks"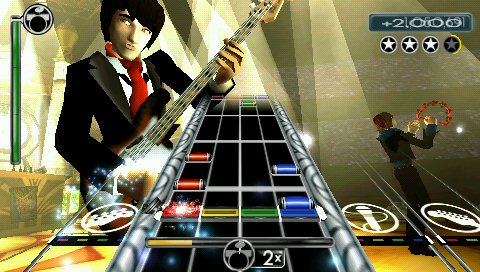 Rock Band Unplugged will be available in North America and Europe beginning June 9, 2009, with software retailing for £24.99 in the United Kingdom.