Sony launched a pair of new PlayStation games consoles at a special 'PlayStation Meeting Event' last night. As rumoured previously, the Japanese tech giant unveiled a more compact PlayStation 4 console and an upgraded 4K ready model which it called the PlayStation 4 Pro.
PlayStation 4 Pro
Let's start by looking at the new more powerful machine. The PS4 Pro offers more than twice the compute power of the standard PS4. It is based upon a new AMD custom processor. The CPU portion of the processor is the same x86-64 AMD Jaguar with 8 cores (but higher clock speeds), however the GPU is now based upon AMD 'Polaris' tech.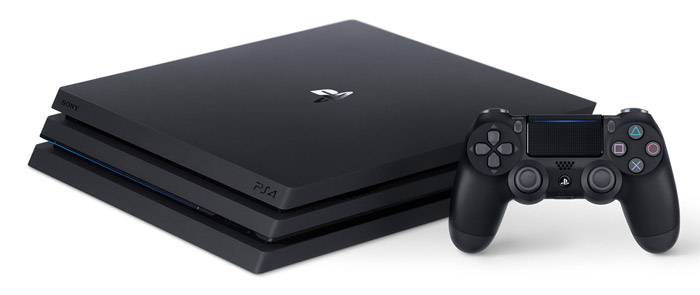 PlayStation boss Andrew House said the new PS4 Pro is "targeted to the hardcore gamer or those who have invested in high end display technology". So it can render PS4 games at 4K resolutions, and with more vibrant clear colours (HDR). Other improvements with the Pro are a larger standard HDD (1TB), an extra USB 3.0 port, and faster Wi-Fi.
The PlayStation 4 Pro might be the best choice for those wanting to buy into PlayStation VR when that headset is launched on 13th October. Non-4K TV owners might be attracted to the Pro for their older 1080 TVs for a higher/more stable framerate. The PS4 Pro will launch on 10th November priced at $399, £349 and 399 euros.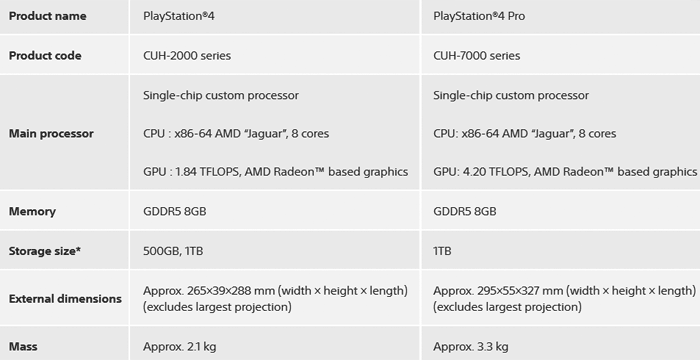 PlayStation 4
This is a revision of the original PS4 without any claimed boost in performance. The loudest trumpeted improvement is in its compact size: "slimmer and lighter". However, there are a couple of other benefits; it is more energy efficient than the original, it too can offer HDR visuals if your game and TV supports them, and it also has faster Wi-Fi with 5GHz support.

The new PS4 is released on 15th September and will be priced at $299.99, £259.99.
Sony also revealed an updated DualShock 4 controller, which provides lower latency when USB connected, at the event last night.