Sony has boasted of selling a million PlayStation 4 consoles during the first 24 hours of availability in North America. The console became available to buy in the US and Canada on Friday, 15th November. Though it is still very early the head of Sony Computer Entertainment, Andrew House, said that "sales remain very strong in North America." House expects a similarly enthusiastic takeup of the console in Europe and Latin America on 29th November.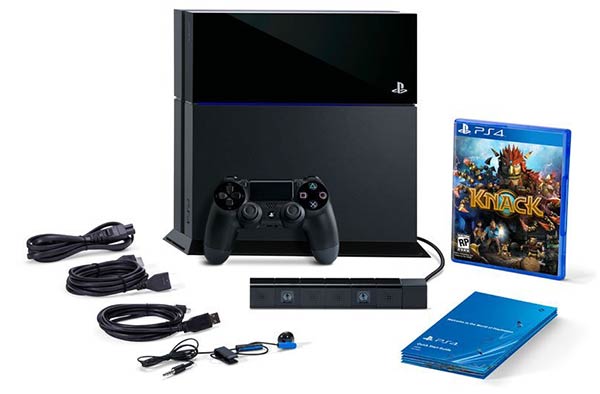 Looking forward Sony predicts five million consoles will be sold by 31st March 2014. Market analyst firm IDC gives a nearer term estimate of 2.4 million sales by 31st December 2013.
The launch games on offer with the PS4 have been criticized by some. Two lead exclusive titles, Killzone: Shadow Fall and Knack, scored just 74 and 60 respectively on Metacritic, reports The Guardian. It also quoted games site Polygon in saying that "Right now, this is a game console without a game to recommend it."
BLOD: "the blue light of death"
On the hardware side of things there have been quite a lot of reports of faulty or DoA PlayStation 4 consoles being received by customers. GameSpot put the number in the thousands and found that Sony's official figures say the failure rate is 0.4 per cent of about 1 in 250. However looking at the amount of complaints on Amazon.com – there seems to be a large proportion of unhappy punters in terms of one star reviews. Check the screenshot below, you can see the large split in one star and five star reviews.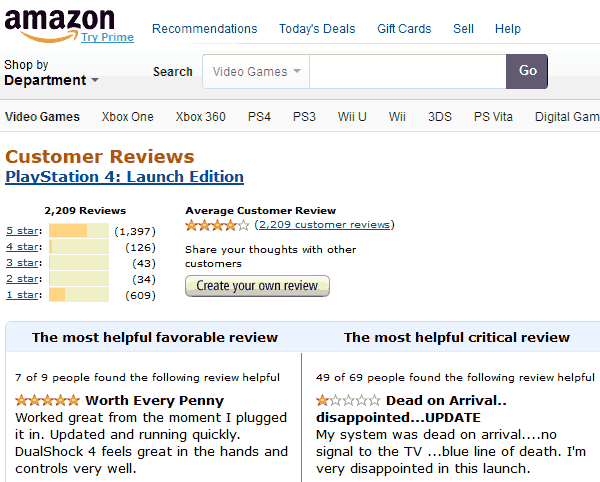 Meanwhile the official PlayStation Support Forum has published a quick guide to help users troubleshoot the BLOD. It is suggested that many of the errors are due to the TV set you are using not being compatible rather than the PS4 hardware being at fault.
Interestingly a report on NeoWin quotes a source in China saying that unhappy interns working at the Foxconn plant assembling PS4 consoles have been purposefully doing a shoddy job. One of the disgruntled assembly line workers said he/she wasn't treated well at the company and "The ps4 console we assemble can be turned on at best".
Microsoft's Xbox One goes on sale on Friday 22nd November and is about 20 per cent more expensive than the Sony PlayStation 4. A week after that, on 29th November, we UK folk will at last be able to purchase a PS4. Will either of these consoles ever ship as many as their predecessors?