In mid-April we heard quite a bit about the upcoming next generation Sony PlayStation as Wired published an interview featuring Sony's lead system architect Mark Cerny. Earlier today the WSJ reporter Takashi Mochizuki, shared a video of Sony CEO Kazuo Hirai talking to investors in a post-results meeting. The new video shows some proof of the pudding, which helps us realise the potential of the specs revealed last month.
Before going further, let us recap what we know about what we will refer to as the PS5, from now on.
CPU: Features an octa-core cluster of 7nm AMD Zen 2 microarchitecture cores.
GPU: "A custom variant of Radeon's Navi family." 7nm graphics processor comes with raytracing support.
Storage: PCIe SSD.
In the new video, embedded above, you can see in the first section that Sony CEO Kazuo Hirai demonstrates the improved scene rendering speeds of the PS5. The next-gen console finishes the scene render in 0.83 seconds while the PS4 Pro needs more than 8 seconds to complete the task. Furthermore, the PS5 looks like it is running on a bigger TV set, perhaps with a higher resolution.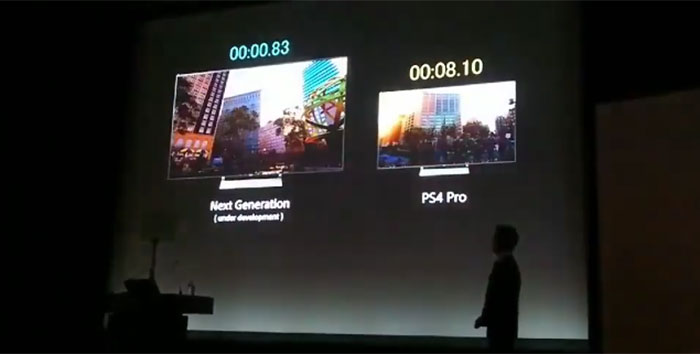 Later in the video we see the Spider Man PS4 title in action. It is shown on the PS4 Pro first, and the game seems to stutter as the camera does a flythough a long New York street filled with skyscrapers. I think the stuttering is due to the PS4 accessing the HDD to retrieve imagery and textures as the camera speeds along. On the PS5 the same high speed camera journey is very slick and smooth throughout. Previously, Cerny told Wired that the SSD could deliver a 19x improvement in loading times in Spider Man PS4.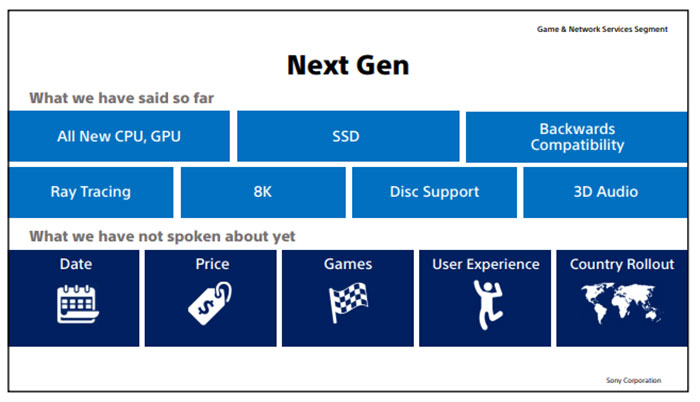 Another important share by WSJ reporter Takashi Mochizuki was of a couple of slides from this Sony investor presentation. Firstly, above, you can see the slide which confirms some attractive features; new processor, ray tracing, 8K, SSD, backwards compatibility, disk support, and 3D audio.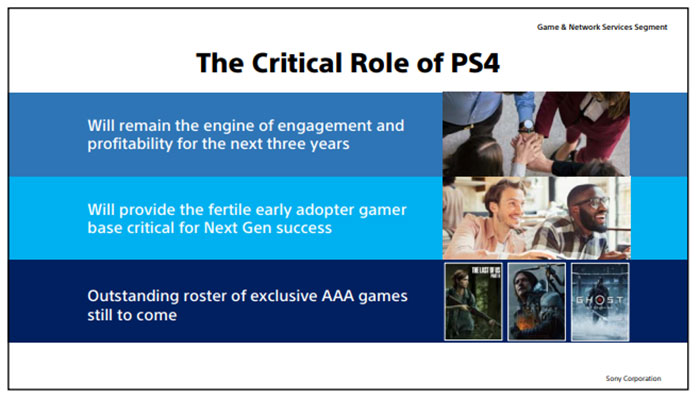 A second slide shows that Sony intends to keep the PS4 alive for at least another 3 years with support to maintain its early adopter base and attract new gamers with an "outstanding roster of exclusive AAA tiles still to come". This would suggest there will be a couple of years overlap after the PS5 launch.
During the presentation the Sony CEO also talked about a seamless future for PlayStation. Gamers will be able to play "anytime, anywhere, without disconnections," he hinted. It isn't clear what this might mean in practical terms - was he talking about cloud gaming or some kind of Switch-like portability?
Sony won't be holding a press conference at E3 2019. Hopefully it will continue to fill in the blanks, as far as the PS5 is concerned, via other channels.