Following no shortage of internet leaks, Sony finally confirmed the existence of a smaller, thinner PlayStation 3 at its Gamescom conference yesterday in Cologne, Germany.
The new-look console, pictured below, is said to be 32 per cent smaller and 36 per cent lighter than the original model, and consumes roughly 34 per cent less power, says Sony. Arriving in stores during the first week of September, the slimmer revision - dubbed the PlayStation 3 Slim - will be priced at £249 in the UK, €299 in Europe and $299 in the US.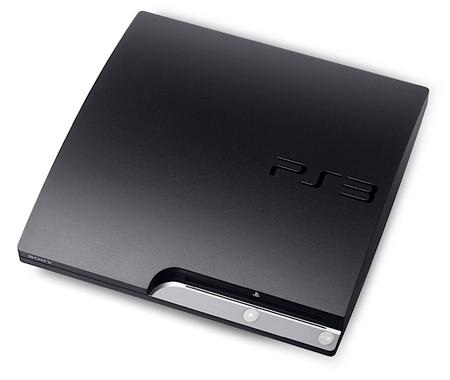 Sony will hope that the lower price point will help attract a larger number of customers. Despite the fact that the company's PlayStation 2 proved to be a dominant force in console gaming, the PlayStation 3 has thus far failed to sell as well as rival solutions from Nintendo and Microsoft.
In addition to an aesthetic change - including a new matte black finish - the PlayStation 3 Slim features a few notable changes. The entry-level model is equipped with a 120GB user-upgradeable 2.5in hard drive, and its front-mounted buttons are no longer touch-sensitive with Sony instead opting for click-to-press alternatives.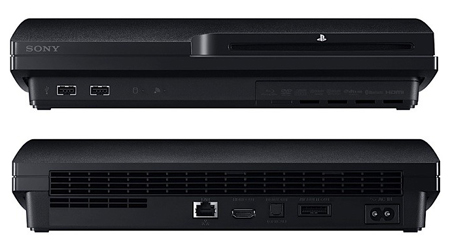 Due to the slimmer design, the new-look PlayStation 3 requires an optional mount in order to stand vertically. Sony has also confirmed that it has removed the ability for users to install other operating systems onto the machine, but adds that it has added Bravia Sync functionality - allowing Bravia TV owners to operate the console's menu interface using the TV remote control.
To coincide with the launch of the new system, Sony has opted to change its branding from PLAYSTATION 3 to PlayStation 3, and has adorned its latest console with a new "PS3" logo. The company is expected to discontinue its full-fat 80GB and 160GB models, with retail pricing of existing stock lowered in an attempt to clear inventories. Looking ahead, recent rumours have suggested that Sony will re-introduce its two-tier line up with the launch of a 250GB PlayStation 3 Slim at a later date.
The complete specification of the slimmer and lighter PlayStation 3 is listed by Sony as follows:
Product name: PlayStation 3
Product code: CECH-2000 (Charcoal Black)
CPU: Cell Broadband Engine
GPU: RSX
Audio output: LPCM 7.1ch, Dolby Digital, Dolby Digital Plus, Dolby TrueHD, DTS, DTS-HD, AAC
Memory: 256MB XDR Main RAM, 256MB GDDR3 VRAM
Hard disk: 2.5in Serial ATA 120GB
Inputs / Outputs Hi-Speed USB (USB 2.0): 2
Networking: Ethernet (10BASE-T, 100BASE-TX, 1000BASE-T) × 1; IEEE 802.11 b/g; Bluetooth 2.0 (EDR)
Controller: Wireless Controller (Bluetooth)
AV output Resolution: 1080p, 1080i, 720p, 480p, 480i (for PAL 576p, 576i)
AV output HDMI OUT connector: 1
AV output AV MULTI OUT connector: 1
AV output Digital out (optical) connector: 1
BD/DVD/CD drive (read only) Maximum read rate: BD × 2 (BD-ROM); DVD × 8 (DVD-ROM); CD × 24 (CD-ROM)
Power: AC 220 – 240, 50/60Hz
Power consumption: Approx. 250W
External dimensions (excluding maximum projecting part): Approx. 290 × 65 × 290 mm (width × height × length)
Mass: Approx. 3.2kg
Included: PlayStation3 system × 1; Wireless Controller (DUALSHOCK3) × 1; AC power cord × 1; AV cable × 1; USB cable × 1