Despite having won the original format war, Sony's Blu-ray format now finds itself facing a new foe; digital distribution.
We've previously stated that Sony's Blu-ray may have won the battle but is far from winning the high-def war, and it seems Sony now agrees.
At a developer conference held in London, David Reeves, president of Sony Computer Entertainment Europe, made clear Sony's awareness of digital distribution and the growing threat to disc-based media.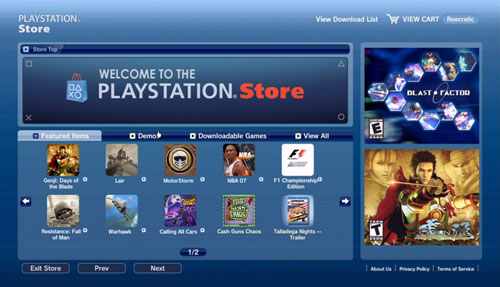 Reeves stated that Sony has been staggered by the success of its Playstation Store, highlighting internal figures that show over 40 per cent of PS3 owners download games direct to their machines.
Accepting the inevitability of digital distribution, Reeves said that Sony is "proofing itself against the disaster the music industry has found itself in", and won't ignore the possibility of distributing games via other methods.
Speaking to MCV UK, Reeves added:
The key to the future is the PlayStation Network, Games put straight onto PSN are the big opportunity.

We do believe that the disc-based delivery system will fall as the power of the network base rises. At the same time, the overall industry growth will continue to go upwards as we push out into emerging markets.

What we don't see is an overall decline in the market. This is a golden era of video games.
Despite Reeves' comments, digital distribution faces obvious immediate problems. The sheer size of next-generation console games makes them largely unsuitable to digital distribution.
However, with industry giants such as Microsoft and Sony making plans for a digital future, we're highly likely to see the option of digital distribution sooner rather than later.