Sony Computer Entertainment has finally unveiled the hand-held that we all knew was coming, the PSP2, which the company has currently codenamed: NGP.

Social connectivity appears to be the buzz phrase that Sony is using in its official press release to accompany the announcement, where it describes the device as "having both Wi-Fi and 3G network connectivity, together with various applications, NGP will enable infinite possibilities for users to "encounter," "connect," "discover," "share" and "play" with friends wherever they are."

The NGP comes packed with three motion sensors, a gyroscope, an accelerometer and electronic compass - all technologies that feature in the motion-sensing periperheral for PS3, PlayStation Move. It has an oval shape, two cameras on the front and back, and will sport two analog sticks. The multi-touch 960x544 OLED display will measure 5 inches and will allow you to interact with games in "three dimension-like motion, through "touch, grab, trace, push and pull" moves of the fingers."

Community features will include the "LiveArea" which allows users to share the gaming experience with others, as well as connect to the PlayStation Network, compare acheivements and "trigger real-time communication." The device will include 3G, GPS and Wi-Fi functionality and will be big on downloads, with users being able to access the PlayStation Store with ease and purchase the latest titles. This will be possible via the new storage-based system - a flash memory based card that you can store data on.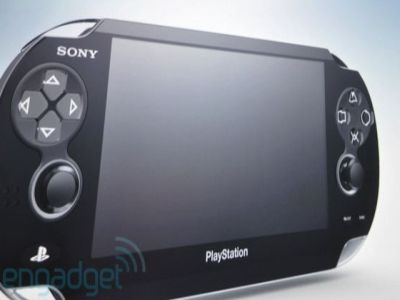 The first picture of the NGP, courtesy of Engadget



Via the PlayStation Suite, Sony has confirmed that NGP will also be able to access content that is available for Android based devices. Owners of Android portables will also be able to access content on the PlayStation Suite, including a host of PSOne titles. You can read about the PlayStation Suite announcement in this article.

The NGP is due to launch before the end of this year, 2011, but no price point has been confirmed.

Here's the specs...

CPU
ARM CortexTM-A9 core (4 core)

GPU
SGX543MP4+

External Dimensions
Approx. 182.0 x 18.6 x 83.5mm (width x height x depth) (tentative, excludes largest projection)

Screen
(Touch screen)
5 inches (16:9), 960 x 544, Approx. 16 million colors, OLED
Multi touch screen (capacitive type)

Rear touch pad
Multi touch pad (capacitive type)

Cameras
Front camera, Rear camera

Sound
Built-in stereo speakers
Built-in microphone

Sensors
Six-axis motion sensing system (three-axis gyroscope, three-axis accelerometer), Three-axis electronic compass

Location
Built-in GPS
Wi-Fi location service support

Keys / Switches
PS button
Power button
Directional buttons (Up/Down/Right/Left)
Action buttons (Triangle, Circle, Cross, Square)
Shoulder buttons (Right/Left)
Right stick, Left stick
START button, SELECT button
Volume buttons (+/-)
Wireless communications

Mobile network connectivity (3G)
IEEE 802.11b/g/n (n = 1×1)(Wi-Fi) (Infrastructure mode/Ad-hoc mode)
Bluetooth® 2.1+EDR ?A2DP/AVRCP/HSP?

More pictures can be seen at Engadget