Valve has opened up voting for the Steam Awards. It is beginning the process by asking Steam Community members to nominate their favourite games in each of nine game categories. Simultaneously the Steam Autumn Sale 2016 has begun. This sale runs all the way through 'Cyber Monday' and offers 'new featured titles' everyday.
The Steam Awards
Steam Community members are being asked to nominate nine of their favourite gaming experiences within nine categories before a popular vote upon the winner in each category begins. Valve has wandered off the usual path for nomination categories, so you won't see best FPS, best RTS, best game of 2016, and so on. Instead you will have to nominate games for the categories bullet pointed below:
The "Test of Time" Award - a game you always come back to
The "I'm Not Crying, There's Something In My Eye" Award - a game with which blindsided you
The "Just 5 More Minutes" Award - games that keep you playing late
The "Whoooaaaaaaa, dude!" Award - a crazy plot twist or something else about a game left you agog?
The "Villain Most In Need Of A Hug" Award - villains have got more complex over the years
The "Game Within A Game" Award - best hidden minigames
The "I Thought This Game Was Cool Before It Won An Award" Award - you found it first?
The "Best Use Of A Farm Animal" Award - self explanatory
The "We Didn't Think Of Everything" Award - write in and help Valve by coming up with another great category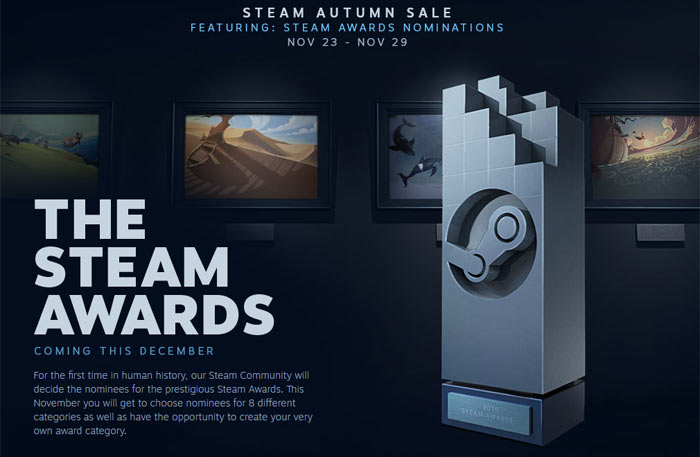 For taking part in the Steam Awards you can earn a badge and profile XP. In December Steam Community members will be asked to vote for the winners of each category from those shortlisted this time around. That vote will coincide with the Steam Winter Sale.
Steam Autumn Sale 2016
The latest Steam sale kicked off at 6pm UK time last night and will run until 6pm on Tuesday 29th November. There's plenty of big name titles on offer such as the Grand Theft Auto franchise, Civilisation franchise, Far Cry franchise, Elder Scrolls franchise and more. Some of the aforementioned games are discounted as deep as 92 per cent off.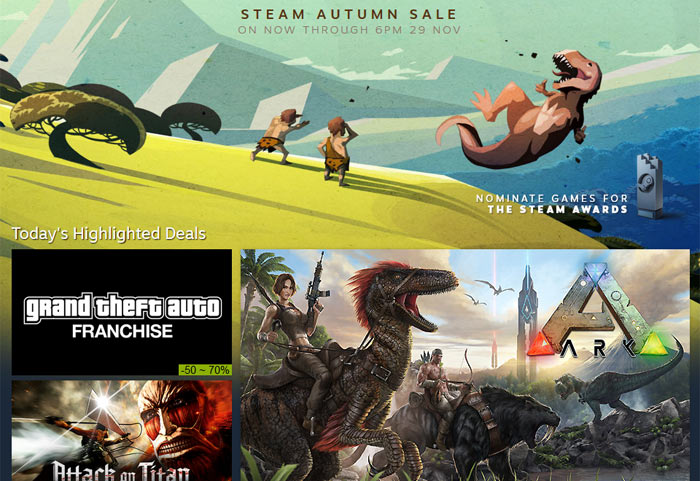 Remember that Valve will be varying featured sale items daily between now and Tuesday. Hardware is also currently on sale with offers on the Steam Controller, Steam Link and accessories.