Valve has been tweaking the Steam Customer Review System. The changes emanate from customer feedback and user reports about the system, with a view on making it more helpful, relevant, and less open to abuse. There are two major changes to the Steam Customer Review System; one affects its everyday usability for Steam gamers browsing for new games, the other affects how the review score of Steam games is calculated.
Steam game review filtering options
At the top of each game's review section you will now find a greater array of filtering options. You can simply click a radio button to filter by; language, purchase source, and whether the review is positive or negative. The default will be a summary of helpful recent reviews written by Steam customers in languages you speak.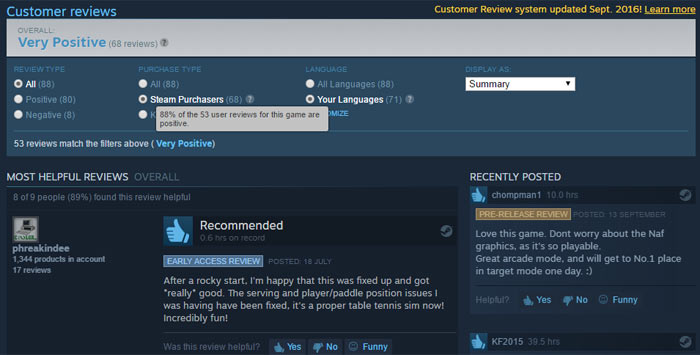 Steam game review score
To help you make the best possible informed decision in purchasing a new game, the review score mechanism has been changed. Until now Steam simply calculated a game score percentage from all user reviews. However it was noticed that some developers would indulge in various activities to try and boost review scores.
From now on keys given away as promotional gifts from developers, for example, or keys that have been obtained through third parties, won't have a weight in the review system. Steam reckons reviews from such keys have been used to bolster scores. "An analysis of games across Steam shows that at least 160 titles have a substantially greater percentage of positive reviews by users that activated the product with a CD key, compared to customers that purchased the game directly on Steam," observed Steam admins. While that phenomena might not be bogus, it often is. Detected false/duplicated reviews will be banned and developers which try to continue with such practices will not be able to sell via Steam anymore.
In other words, anyone can write a review but only those reviews by gamers who purchased via the Steam Store contribute to a game's overall score. According to Steam this means that "the review score category shown for about 14 per cent of games will change; some up and some down". Notably those games around the 69-70 per cent mark could change from overall an 'mixed' to 'positive' review summary, as that percentage is a border point. Furthermore, there are 200 titles or so that only have reviews written from purchasers of keys outside of the Steam Store and they will now all be non-scored.
Steam says it will continue to investigate and iron out games scoring and reviewing wrinkles.