The countdown timer on the official Duke Nukem website reached zero late Friday/early Saturday, depending upon your timezone. The news was pretty much as expected: Gearbox has launched a 20th anniversary game celebrating Duke Nukem 3D. Other details the leakers got right concerned the unusual graphics options; players can switch between the original '2.5D graphics engine' or a new 'True3D rendering mode' including blocky pixel art sprites. The release isn't just an enhanced compatibility port though, there are eight original new levels.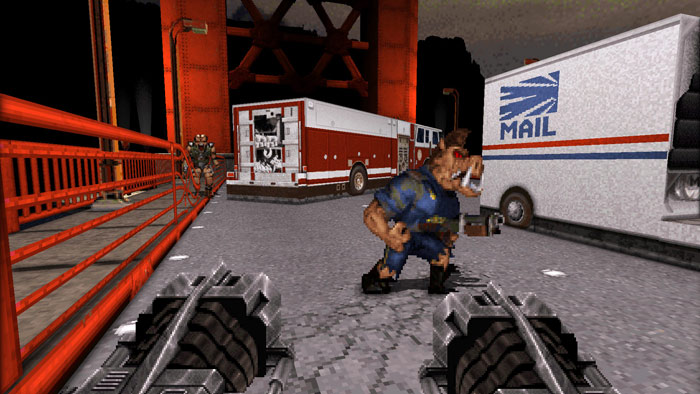 Duke Nukem 3D: 20th Anniversary World Tour brings classic action, enhanced graphics modes, plus an all new fifth episode (with 8 levels) from the original level designers. While blasting hoardes of aliens, players can enjoy new music from the original composer, and new Duke Talk from the original voice over artist. Official bullet-pointed highlights of the release are as follows:
ALL-NEW Episode FIVE, called 'Alien World Order', created by the original episode designers, Allen Blum III and Richard 'Levelord' Gray!
New, bonus content in Episode 5: Duke Nukem finally gets an INCINERATOR to roast new 'Firefly' enemies!
New 'Duke Talk' plus high-fidelity re-recordings from Duke Nukem's original voice actor, Jon St. John!
New musical score for Episode 5 created by Duke's theme song author and original game composer, Lee Jackson!
Original 1996 source code and '2.5D' engine re-mastered in True 3D for Xbox One, PlayStation 4 and Windows 10!
"Frag like it's 1996 – this time with even more asses to kick!"
If you are a fan of the original and keen to play the 20th Anniversary World Tour game then you only need wait until 11th October for the release. Duke Nukem 3D: 20th Anniversary World Tour will be made available for PC, PS4, Xbox One. Pre-orders on Steam are available right now, priced at £14.99 in the UK.