Humble Bundle buyers can now snag a big pile of classic and new Sierra games titles. Sierra published titles often fall within the adventure / strategy game categories and there are quite a number of classic titles in various 'quest' series to enjoy should you purchase this bundle. However, there are some games from totally different genres too; like Shiftlings, Geometry Wars, and Velocity 2X. The Humble Bundlers say that their Sierra bundle, should you buy the lot, will furnish you with $215 worth of games for only $20. In this case even the entry level $1 bundle offers lots and lots of games thanks to its inclusion of various 'collections'.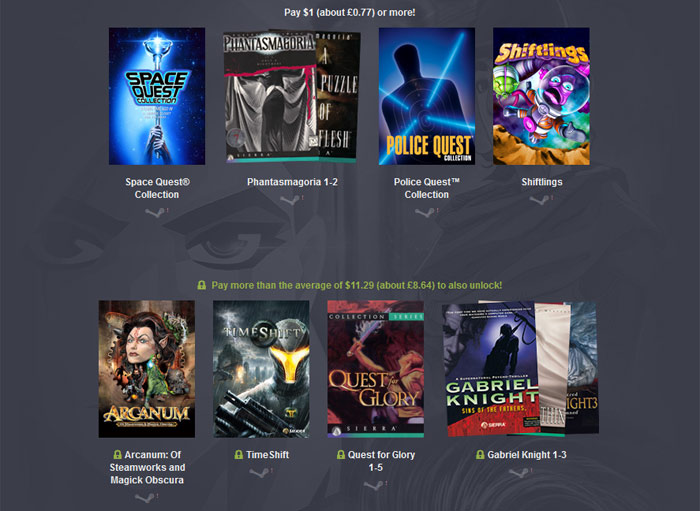 The entry level tier of games, priced at $1 (£0.77) gets you the Space Quest Collection, Phantasmagoria 1-2, the Police Quest Collection, and Shiftlings. Beating the average price (currently $11.29, £8.64), you can add Arcanum: Of Steamworks and Magick Obscura, TimeShift, Quest for Glory 1-5, and Gabriel Knight 1-3 to your Steam collection.
This time around the Humble guys have four tiers in total, so there's a $15 and $20 tier left to describe. For $15 (about £11.48) you can snag Caesar 3-4, Geometry Wars 3: Dimensions Evolved, King's Quest Collection (1-7), and Velocity 2X. The highest tier in the Humble Sierra Bundle costs $20 and includes just one more thing. However, the top tier provides the bumper King's Quest: The Complete Collection which includes five chapters and an epilogue.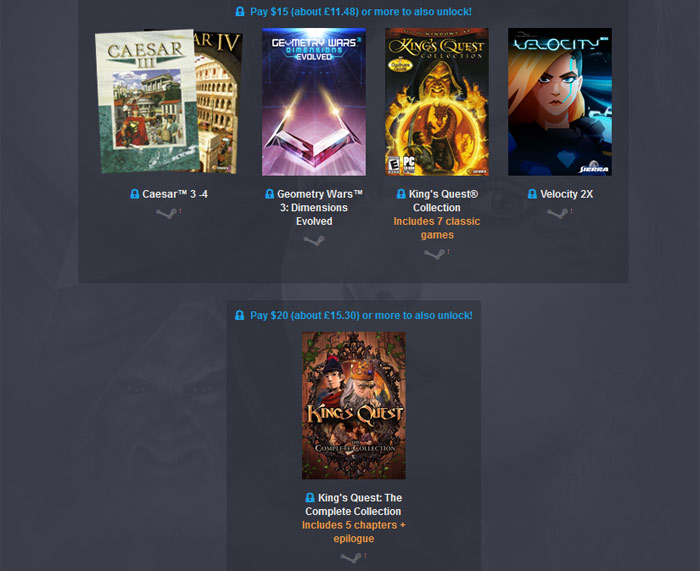 Buying into any tier gets you a 10 per cent discount off Humble Monthly – if you are a new subscriber. Your bundle payment will be split between Humble, Sierra, and The Call of Duty Endowment charity (for veterans), as you see fit. This bundle will, as usual, be on offer for two weeks.