The Humble Bundle team seem to have stepped up the number of bundles they are outputting recently. In addition to the recently introduced Monthly packs the team are now running two special game bundles at once – plus the mobile and book bundles it now offers. The CRYENGINE bundle we alerted readers to just last week (6 days remaining), has now been joined by the Humble Sega Strategy Bundle.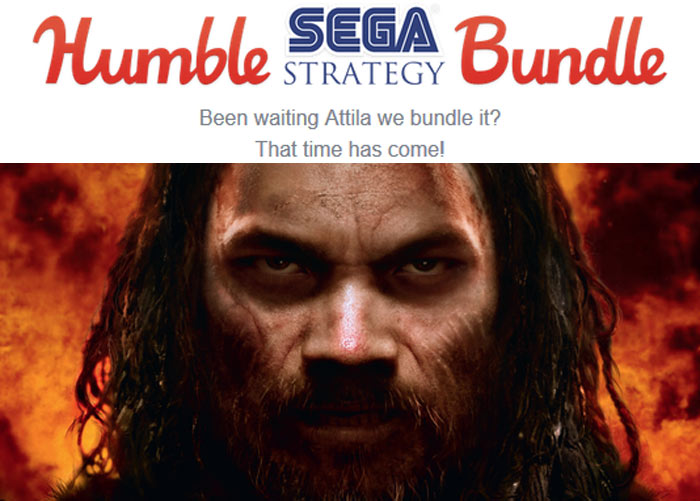 On reflection I reckon the CRYENGINE bundle is a bit of an exceptional departure for the Humble team. It's focussed upon games development rather than just gaming fun. The numbers reflect the much broader appeal of the new Sega Strategy Bundle already. Not even 12 hours has passed since its introduction and it has already outsold the CRYENGINE bundle by 2:1. So what's in the Humble Sega Strategy Bundle?

The new Humble Sega Strategy Bundle is said to be worth as much as $379, which is quite a hefty sum. This time around the entry level $1 tier does seem to offer more games than usual. For that meagre fee you can snap up; Company of Heroes Complete Edition, Warhammer 40,000: Dawn of War - Master Collection, Medieval II: Total War Collection, Rome: Total War - Collection, SEGA Genesis/Megadrive Strategy Pack (Shining Force, Shining Force 2, Gain Ground, Columns), and a coupon for 10 per cent off Humble Monthly for New Subscribers.
Moving on to the traditional mid-tier 'beat the average' price, currently teetering around the $6.45 region, you can add four more games and another discount offer as follows; Valkyria Chronicles, Warhammer 40000: Dawn of War II - Grand Master Collection, Eastside Hockey Manager, Total War: Shogun 2 - Fall of the Samurai Collection, and a coupon for 66 per cent off Football Manager 2016 in the Humble Store.

This Humble Bundle's top tier isn't so lofty. For the set price of $12 those interested can plonk down the cash to add Total War: ATTILA and the Company of Heroes 2: Master Collection to their games collection.
All the above titles are redeemable on Steam. As usual you can allot a proportion of your payment to charity. There are four causes this time around; The David Sheldrick Wildlife Trust, SpecialEffect, GamesAid, and Access Sport.