Sci-fi space trade, flight, exploration and combat game No Man's Sky will launch on both PC and PS4 in late June. Yesterday Sean Murray from Hello Games wrote about the release schedule on the PlayStation Blog and simultaneously we saw that No Man's Sky became available for PC pre-orders via both Steam and PC DRM free from GoG. There appears to be a slight time lag in No Man's Sky making it to PC; on PS4 it becomes available on 21st June, but on PC the Steam Store (UK) says your pre-order will unlock and become playable on 24th June.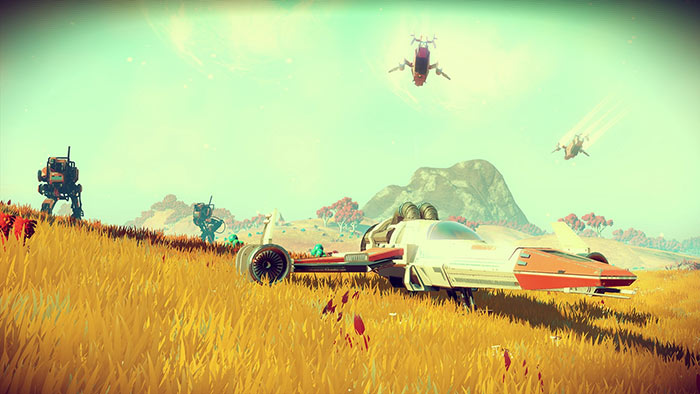 HEXUS has covered this interesting sci-fi game three times previously over its development due to its rather unique looks and proposition. To recap on the essence of the game, Sean Murray sums up "In No Man's Sky you can trade, fight, explore, and survive in a boundless, computer-generated universe. It's a vast, open game". If you haven't seen or heard about it before have a look at the video embedded in this article. I've chosen to embed GameSpot's newly published hands-on video (below) which seeks to address the question of "What Do You Actually Do in No Man's Sky?" EuroGamer published a more lengthy hands-on session yesterday for those interested.
The (indie) developers seem pretty excited that Sony is producing a physical "full blown Blu-ray retail version," of No Man's Sky for PS4. That gives gamers the choice of a physical or digital copy. Murray added that his team are excited to keep supporting the game for free after it is released. While it is a 'complete game' "there's a lot we'd like to add post-launch, if we can," Murray noted, hinting at DLC packs perhaps.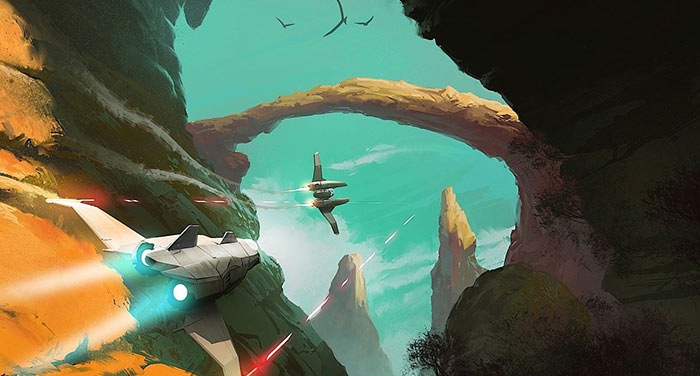 Turning our focus to the PC release, I am seeing the game advertised as becoming available to play on 24th June here in the UK. It is available at the same price of £39.99 at either Steam or via GoG (DRM free). Both these digitial sellers offer a pre-purchase 'exclusive' spaceship, the Horizon Omega ship, equipped with an upgraded hyperdrive and increased firepower.
Kotaku UK says that PC gamers will also be able to pick up a "lovely collector's edition" in June, called the No Man's Sky 'Explorer's Edition'. This $150 game pack includes the game (worth $60 it says), plus an 8-inch metal model of the game's spaceship, a sheet of decals, display base, removable background display and an exclusive traveller pin to wear. Other goodies on their way include a double vinyl release of the game's soundtrack from Iam8bit.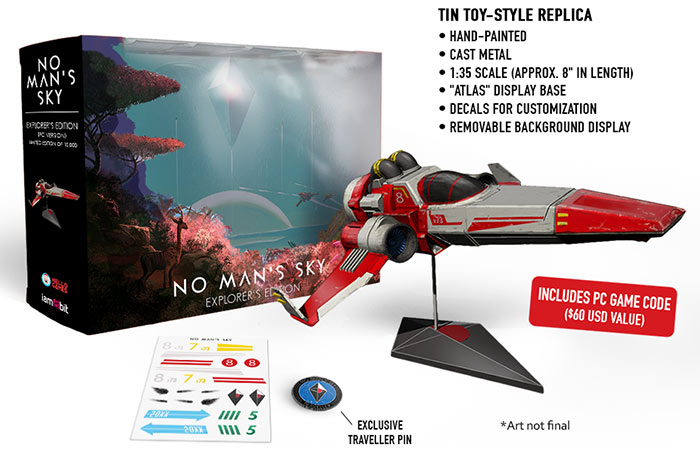 UPDATE: I just noticed that the game release dates vary by world region rather than by platform. "The game is scheduled to be released on June 21st in North America, June 22nd in Europe and Australia, and June 24th in the UK and Rest of World".