GOG has launched a public beta of the GOG Galaxy platform. This "truly gamer friendly, DRM-free online gaming platform," offers a raft of optional features that covers much of what makes Valve's Steam convenient and compelling but without any form of DRM. The GOG Galaxy program was first revealed around a year ago.
The reason behind the creation of GOG Galaxy is explained as an initiative to bring modernity to GOG's digital distribution and bring with it a plethora of desirable new features for gamers. The firm is moving to support every game in its library through Galaxy as soon as possible. While every game will support core Galaxy features such as installing, updating, game time tracking in-game and social features will vary between games.
GOG Galaxy features the following key aspects for end users:
Library
As mentioned above you can install, optionally auto update and track game time in the library. Simple One-Click install from the store is available and GOG facilitates DRM-free backups and offline support from this part of the Galaxy UI. Soon it will be implementing an update roll-back feature so you can go back to a previous game install version if you experience problems with an update. One further feature on the way is a notification system so you are alerted when a wish-listed game is discounted, or when a new friend, game or chat invite is received.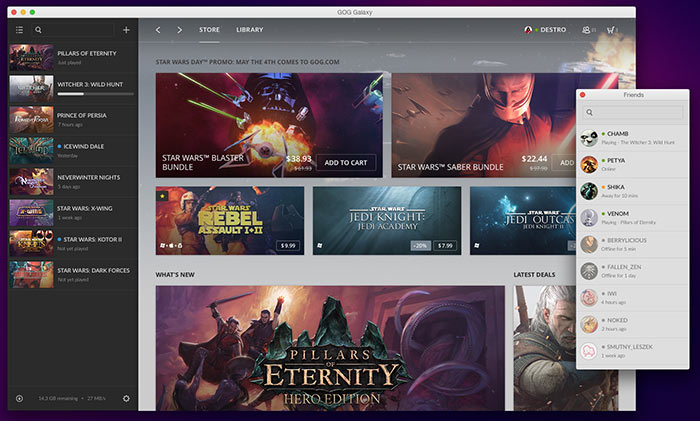 In-game and online features, Crossplay with Steam users
This part of the Galaxy client facilitates multiplayer and matchmaking and the recording achievements and game stats. A potentially important feature is 'Crossplay' which enables online play between GOG and Steam. Steam users you play with don't have to be GOG Galaxy users. GOG says that another feature coming soon is Game Overlay with notifications for new messages, requests or achievements in-game.
Community features
Currently GOG Galaxy beta supports friends lists, where you can see what your pals are playing, invite them to play games and chat. Real-time chat extends beyond the client to the GOG website. Coming soon a feature will allow inviting and joining Galaxy-powered multiplayer games from the client.
Configurability, privacy

GOG Galaxy features can be turned on or off as you choose. Just as the client itself is optinal so are parts of its construction like achievements, chat and so on. "Turn off the ones you don't care about, leaving only what's important to you," suggests the official website. The optimised and lightweight client is made to be unobtrusive and use meagre system resources. Privacy is important to GOG and personal data isn't tracked, with features that require any user data being optional anyway.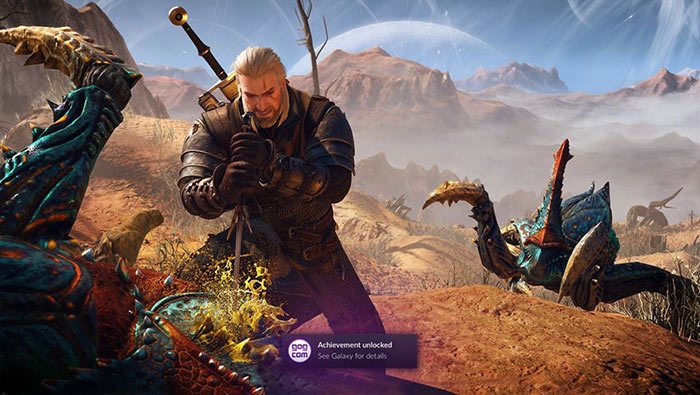 Currently GOG Galaxy beta is available for PC and Mac with a Linux version planned "eventually". The GOG downloader program will be phased out in the long run as it is essentially replaced by GOG Galaxy.
The first new big game coming to GOG and GOG Galaxy will be The Witcher 3: Wild Hunt, which will offer automatic updates, achievements and stats in the client. More AAA titles will arrive in the future, we are told. Of course availability of the games people want to play will be key to the scale of GOG Galaxy's success.