The Open Gaming Alliance (OGA) has forecasted in a preview of its upcoming annual research report (via MCV) that PC gaming will continue to grow. PC gaming software is an expanding market worldwide, expected to increase from $26 billion in 2014 to $35 billion by 2018.
The report on the games industry, complied for the OGA by market research firm DFC Intelligence, will be released at the end of March and covers trends and forecasts for the PC gaming industry worldwide from 2014 through to 2018. The preview states that whilst the PC gaming software market will continue to expand, console and handheld markets will suffer a projected decline in value.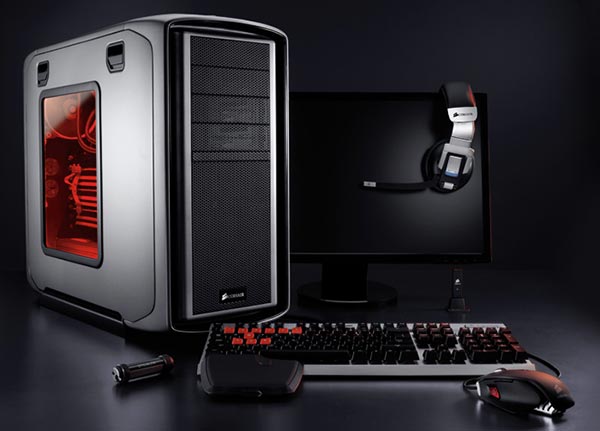 "Much of the growth is driven by pure demographics. We continue to identify a core group of consumers for whom playing on the PC is a major pastime," DFC analyst David Cole said. "This is, in fact, a fairly new demographic that skews highly male and is only increasing in buying power."
DFC's Cole went on to explain; "In past years much of the growth in PC games has been due to adoption of the platform in Asia. Now we are estimating a potential 86m PC gamers outside Asia that we have targeted as market growth drivers." Of course the encouraging predictions for PC games software should have a welcome knock-on effect on PC hardware sales, "These are the consumers that are driving spending not just on software, but also on PC hardware, as they buy expensive equipment to play, view and record games," asserted Cole.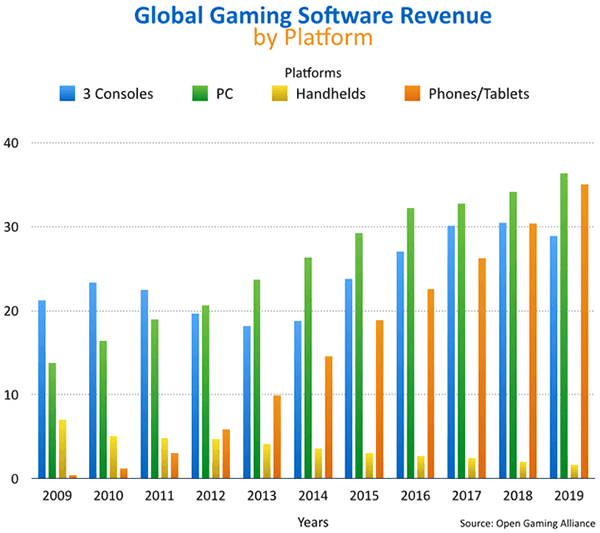 The chart indicates clearly the revenue performance from PC software, but suggests that the console software market will start to decline from 2017. A rise in smartphone and tablet gaming could see this sector grow from just under $15 billion in 2014 to around $34 billion in 5 years time, but handheld gaming software is again, expected to decline in the next few years to just $1.2 billion by 2019.
The OGA identified large multiplayer games, specifically freemium games such as League of Legends and World of Tanks, as core titles that will drive strong growth in the PC market for the long-term. In addition, with PC hardware's global ubiquity, it makes it easier for gamers to share, communicate and be more sociable with friends and family, according to OGA board member and Research Subcommittee chair, Matt Ployhar. The same influences could also explain the dramatic rise of the eSports market. Games streaming sites such as Twitch, which doubled its monthly users in 2014, demonstrates that the market is also growing in the numbers interested in the entertainment of watching others play games, which in turn results in gamers spending more money on gaming.