Four new games, all published by Ubisoft, are rumoured to be coming to Wii this year. Brothers in Arms: D-Day, Driver: Parallel Lines and Cosmic Family are all games we've heard of before, but the fourth game cited for release is Spelling Spree which appears to be an educational game aimed at improving our spelling.

We've had a mooch around and discovered that there was a game released for schools called Spelling Spree back in 1998 and ,judging by the interactive gameplay, we'd suggest that Ubisoft have adapted it make spelling even more fun - hoorah!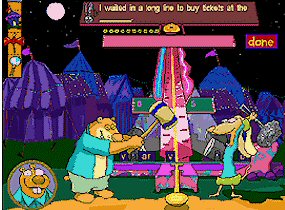 * In Whack-a-Word (pictured above), players choose a mallet and play against Bruno the Bear. They try to smash the letters in order to correctly spell the given word and collect points.

* In Bumper Cars, players direct their bumper car to other cars that contain the next letter in the given spelling word.

* Crazy Maze involves navigating the bunny through a multi-level maze. Kids must try to dodge floating bunnies and they can enter doors and tunnels to be transported to other areas fast. They go up and down ladders, collecting the letters of the spelling words. Great arcade fun!

* Word Chuck involves choosing a beaver boat for Dobie and navigating him around in the water, shooting at targets that contain the correct letters or groups of letters to spell the given words. Kids pan left or right, and the targets change after a short period of time, providing some arcade-style challenge.

Ubisoft UK are yet to comment on the rumours.