Although the Steam Family Sharing system has yet to be released to the wider public by Valve, there have already been changes made to aspects of its use and security. In an announcement on Friday, Valve announced a sharing limit of ten specific users on ten specific devices and implemented a two-factor authorisation process.
Steam Family Sharing, currently in beta, is one of the most-anticipated changes to Valve's digital games marketplace. The system allows users to share their library of games between multiple accounts, theoretically to permit users in the same household to buy a game once and share it instead of buying multiple copies for each account.
The system has been updated as of Friday and will now require two-step authentication. Once a device is authorised, users will then be allowed to share their games between up to ten unique accounts, allowing a game to be played on different computers. However, only one authorised account can access the user's library at a time.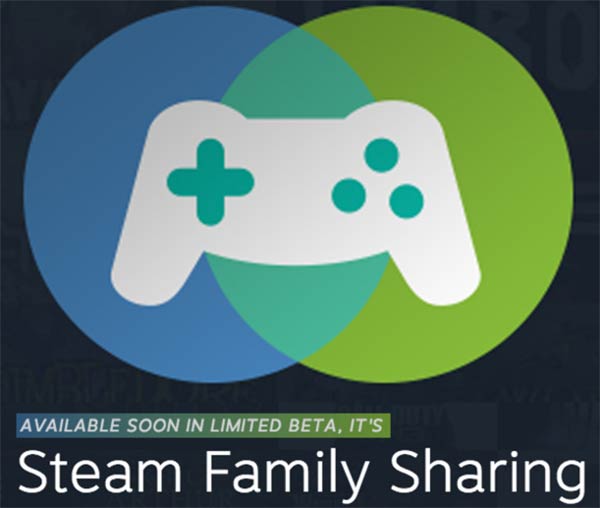 Reducing the risk of unjust Steam user bans?
The forum post explained that the change "allows lenders more control while reducing the risk of VAC [Valve's Anti-Cheat System] or other bans resulting from an unknown user accessing and abusing shared games on an authorized machine." The new update sounds like a way to prevent users cheating, whilst playing games through Steam Family Sharing, and then the wrong person getting the blame. We are unsure if beta users will have to re-authorise old computers after the change.
If you are a Steam user, and are eager to try out the Family Sharing Beta, you can find details of how to sign up here.
Recent DDoS attacks
News of various large-scale game platforms including Steam, Origin and Battle.net being hit by DDoS attacks were reported by Gamasutra just before the weekend. These attacks usually lead to services and networks being slowed massively or taken down as a whole as an outside source overloads the systems. Users thus are unable to utilise these services during system overloads.
EA's Origin platform was the first hit, the responsibility for that lies with a group called 'DERP', who were allegedly also behind DDoS attacks on EA.com and Blizzard's Battle.net previously.
A separate pair of Twitter users claimed responsibility for the attack which hit the Steam platform and Battle.net as they were taken offline as users received error messages when trying to access the website. Whilst Steam was down, developers were apparently unable to access the forums or upload new game builds.