Yesterday, at 10.57am ET, Steam broke its concurrent users record. The games download service surpassed 7 million concurrent users for the first time, it was actually 7,190,518 users fact-fans. However, in October Valve announced that Steam has 65 million active users, so it might not be surprising to find so many playing online at the same time.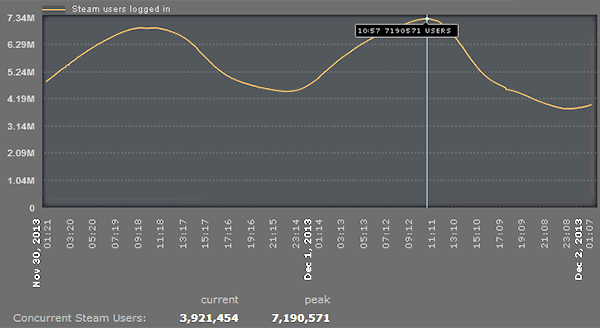 It's an interesting time in the video gaming industry; the Xbox One and PS4 have recently launched in many regions and we have just been through a few days of sales and promotional offers including Black Friday and Cyber Monday – Christmas is also looming. However the long wait for next gen consoles and their recent arrival doesn't seem to have impacted the popularity of the mainly PC-based Steam games service.
Steam's popularity right now, as mentioned above, could be down to some attractive sales on big games titles (see below, this sale ends tomorrow). Also of course, people were making use of their weekend to get in a bit of gaming time.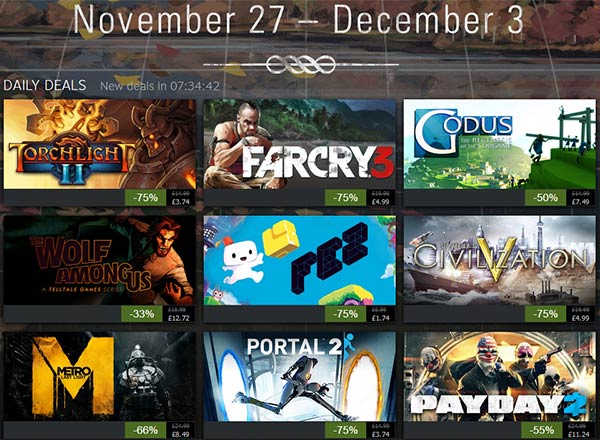 What are the most popular games to be playing on Steam right now? Dota 2 is by far the most popular game on the service at this time. This game enjoyed a peak current player count of over half a million today. Trailing behind at nearly 100,000 peak players today is Valve's own Counter-Strike: Global Offensive. The next three most popular games are The Elder Scrolls V: Skyrim, Team Fortress 2 and Football Manager 2014.
With the release of Steam Machines, the Steam OS and the Steam Controller next year, the Steam platform can only become more popular.