The annual Steam Summer Sale has kicked off. Over the next eleven days or so there will be a series of daily deals, flash sales and community choice (voted) sales occurring on the popular downloadable retail software and community site. At the time of writing there are over 1,500 games on special offer, so how do you find the best discounts among the dross?
The Steam sale has headline price cuts of up to 75 per cent on some big game titles but there are games with greater reductions to their prices than that available. At the time of writing the Steam Store highlights Bioshock Infinite at 50 per cent off, Endless Space Emperor Edition at 66 per cent off, Call of Juarez Gunslinger at 33 per cent off and Hotline Miami with a big 75 per cent price cut. Also of note in the daily deals is that Left 4 Dead 2 is subject of a 75 per cent price cut. The daily deals will change over at 6PM tonight in the UK. When flash sales come up they only last for 8 hours but will often offer deeper discounts.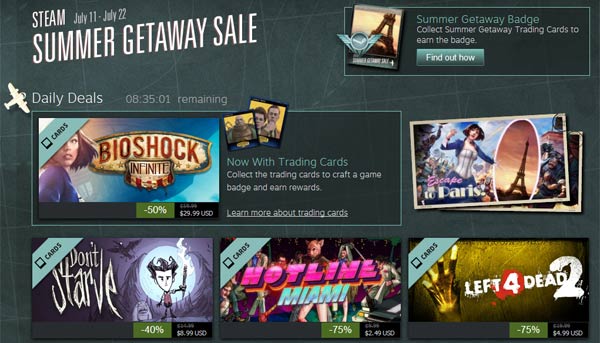 Games orientated Joystiq online webzine suggests Steam Summer Sale bargain hunters make use of a handy web tool called the Steam Sales Tracker. This tool puts all the Steam titles currently on offer in one long list (but it loads quite swiftly). The list details game/app type, title, discount, original price and discounted price. Furthermore you can change the game/app category (such as game, DLC, pack, guide) and your currency from a drop down lists. Clicking on any column title uses that as a sort criteria. Initially the list will be presented to you with the biggest discounts highlighted at the top of the sale lists. Right now there are more than ten games with over 90 per cent off their original prices.
Hopefully there will be something in the sale now to appeal to you, perhaps you've had your eye on it before. Also remember that just because a game you are interested in isn't on sale today there is lots of time for further deals of the day, flash sales and community choices. Also this year Steam has in place an email system which will message you when a game on your wishlist goes on sale. So it might be a timesaver for you to put those games you are interested in a wishlist associated with your Steam account now to save your eyeballs over the next 11 days.
Happy hunting.