Ubisoft and Blue Byte's upcoming city building real-time strategy video game, Anno 1800, is only a fortnight away from its release on the PC. If you are raring to play this newest Anno RTS release, there are a couple of news nuggets that you might be interested in. First of all, Ubisoft has listed the minimum and recommended PC system requirements for the game, and secondly Anno 1800 is set to be removed from Steam at launch and be available from either the Epic Games or Ubisoft Stores only.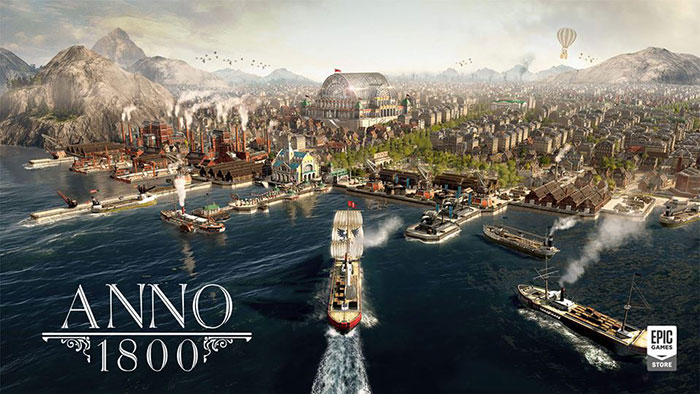 These PC system requirements are not surprising to behold, with a minimum quad-core CPU recommended. Below you can see the official recommendations for both 1080p low at 60fps, and 1080p high at 60fps. Sadly, there are no 1440p or 4K recommendations provided.
Minimum - 1080p Low Preset at 60fps
CPU: Intel i5 4460 at 3.2GHz or AMD Ryzen 3 1200 at 3.1GHz
GPU: Nvidia GTX 670 2GB or AMD R9 270X 2GB
RAM: 8GB
OS: Windows 7 or newer
Recommended - 1080p High Preset at 60fps
CPU: Intel i5-4690K at 3,5GHz or an AMD Ryzen 5 1500X at 3.5GHz
GPU: Nvidia GTX 970 4GB or AMD R9 290X 4GB
RAM: 8GB
OS: Windows 7 or newer
Several languages are supported with audio available in English, French, German, or Russian. Text is available in even more languages; English, French, Italian, German, Spanish (ES), Polish, Russian, Simplified Chinese, or Japanese. At release the game will feature Denuvo and VM protect anti-piracy/tampering technologies.
Run out of Steam
Currently you can pre-order Anno 1800 on Steam. However, after the launch date of 16th April it will not be listed on Steam anymore, but only be available digitally for PCs via the Epic Games Store or Ubisoft Store. An announcement from Ubisoft adds that "Pre-orders on Steam can be made until the release of the game. Everyone who pre-ordered Anno 1800 on Steam will be able to play the game upon release and will automatically get all future updates and content."
If you are interested in the open Beta, which runs from 12-14th April, you will also have to grab Anno 1800 via Epic Games or Uplay. The finished game will be available in Standard and Deluxe Editions.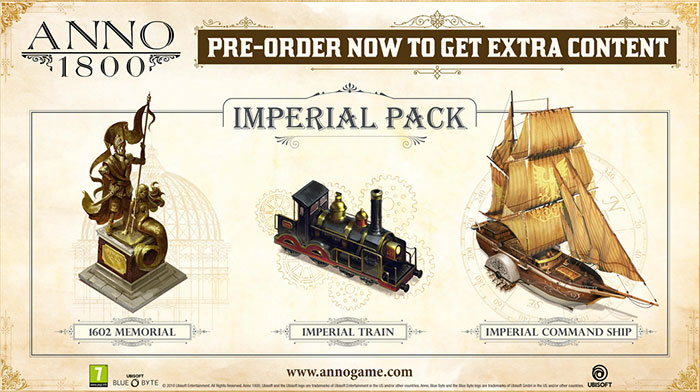 Epic seems to be increasingly aggressive at snatching these 'exclusives'. In other news we covered this morning there are indications that Borderlands 3 will be an Epic Games Store exclusive - and who can blame developers with the more generous slice of profits available. Epic has signalled that these exclusivity deals are only to get its store established and are not part of its long-term strategy.