The Humble Bundlers have hooked up with Team 17 to offer an attractive new bundle - if you are a fan of this developer's output. Of course, a Team 17 bundle would look amiss without some Worms fun and within its various tiers there are two of its vermicular games to be had. Elsewhere in the bundle, The Escapists have a strong presence as the first game and various expansions almost fill the middle tier. Other games you may appreciate in this max price US$10 bundle include; Overcooked, Penarium, Sheltered, and Interplanetary: Enhanced Edition.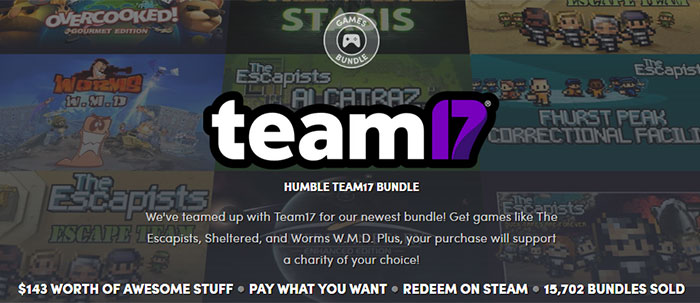 You can pay what you want - but realistically at least $1 (79p) for Steam keys - for the ground-level tier which consists of Penarium, Worms Clan Wars, and Interplanetary: Enhanced Edition. All these games have garnered at least positive Steam feedback and are available on Windows, Mac OS and Linux.
Moving up to the 'best the average' tier and for $5.55 (about £4.33, at the time of writing), you can add a quintet of The Escapists fun, Overcooked: Gourmet Edition, and Sheltered to your charity sponsored swag bag. All of these games are, again, available on Windows, Mac OS and Linux via Steam - except for Overcooked which is Windows only.
The top tier at $10 (£7.81) or more crowns the collection with Worms WMD from 2016. This game returns Worms to its 2D classic roots and is claimed to be "the best worms experience ever." Perhaps that is worth picking up, as the last time I enjoyed Worms was on my Amiga CD32 with SX1 expansion and Fujitsu mechanical keyboard. I've bought later PC editions in various sales and never got hooked.
So far nearly 16,000 bundles have been sold but you still have more than 13 days to jump on board if you are interested. As usual, you can divide up your payment between various charities, the developer, and a Humble tip - as you see fit.