Valve has just opened the doors on its annual Steam Winter Sale. The sale will run from now until 1pm ET on 4th January 2018. Simultaneously, voting for the second annual Steam Awards has opened and will run for the length of the sale period. Other digital games distribution platforms have opened up sale periods already, such as Microsoft, GOG, and the Humble Store but probably the second most attractive sale now for PC owners will be Origin Holiday Sale, full of EA's blockbuster titles.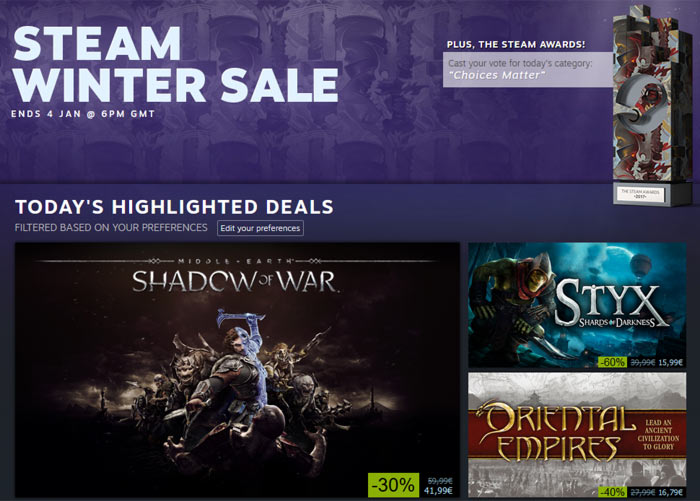 The Steam Store home page will present you with a list of discounts on big name games and tailored recommendations with discounts, as long as you are logged in. For me the top of the page is dominated by an offer of 30 per cent off Middle Earth Shadow of War but other games in the top selection such as Elite Dangerous, Prey, and Tekken 7 are discounted more heavily – up to 90 per cent off.
On this first day of the Steam Awards we are met with the 'Choices Matter' award. Explaining this category the voting page talks about the wide range of choices in gameplay these games offer – lots of ways to carry out a plan, and it still succeed for example. The choice is between five pre-selected titles; The Witcher: Wild Hunt, Dishonoured 2, Divinity Original Sin II, The Walking Dead: A new frontier, and Life is Strange: Before the Storm. Tomorrow there is the 'Mom's Spaghetti' Award…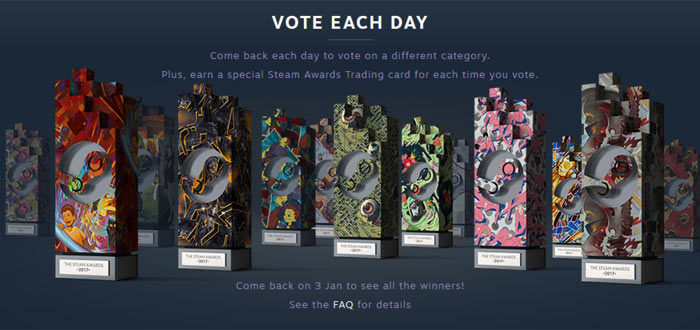 As well as the games sales and awards, don't forget that Steam has some hardware on offer too. It might be a good time to grab a game for the holidays for yourself or as an Xmas gift.
EA Origin Holiday Sale
EA is providing deep discounts to PC gamers this holiday season via its Origin Store. The sale highlights discounts as deep as 75 per cent off titles such as Star Wars Battlefront II, Battlefield 1, Need for Speed Payback, FIFA, SIMS, and Titanfall games, and various DLC packs.