Sniper Elite 4 is released tomorrow, Valentine's Day. To stoke interest Rebellion has released a launch trailer, embedded below, dubbed 'Timing is Everything'. In other Sniper Elite 4 news the season pass details have been confirmed.
In the launch trailer you get to see specialist Karl Fairburne on the hunt behind enemy lines in the south of Italy. The action takes place in 1943 and we first see Fairburne moving stealthily around a sun-baked village planting a road-mine and spotting concentrations of enemy activity before parkouring himself up to a great sniping vantage point. After that initial prep we get to see the carefully worked plans of our sniper work out perfectly in an explosive action sequence.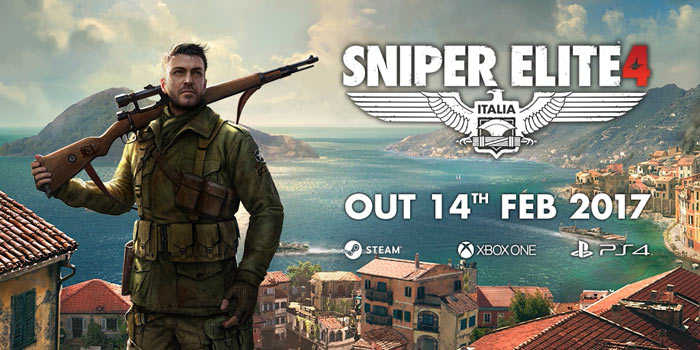 Extra content
GameSpot reports that Rebellion is readying a plethora of DLC content for those who lay down $34.99 for the Sniper Elite 4 Season Pass. Purchasers will receive the full caboodle of pre-order bonus content (A campaign mission called Target: Führer, set in a U-boat facility, plus a camouflage rifle skin pack). Then, during the post-launch year, players will recive the following:
Three extra campaign missions: a separate three-chapter campaign telling the story of how protagonist Karl Fairburne escapes Italy.
Three extra expansion packs: to be released alongside a campaign mission, each expansion will include three new weapons, eight weapon skins, and two new characters for use in co-op and multiplayer.
Yet more expansion packs: more weapons, including silenced weapons, famous historical allied wartime rifles, and close-quarters weapons and equipment, as well as three more co-op and multiplayer characters.
Importantly, all future multiplayer maps and modes will be released for free to all players, regardless of season pass status.
Sniper Elite 4 arrives tomorrow on PC (£39.99 on Steam), PlayStation 4, and Xbox One. The PS4 Pro will offer an "enhanced frame rate, improved lighting, and faster loading times," plus increased graphical detail compared to its older sibling.