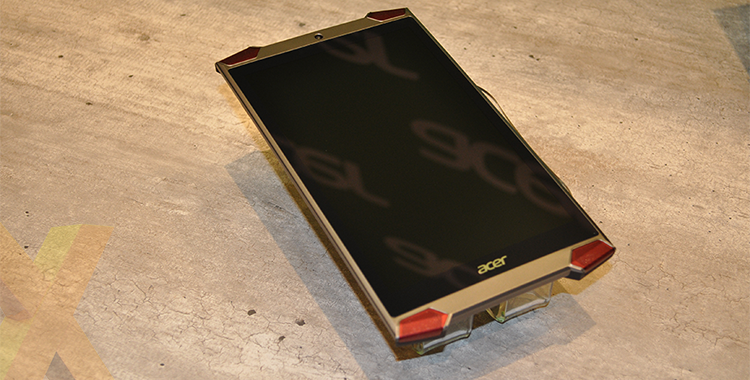 Meet Acer's first dedicated gaming tablet, the Predator 8 GT-810. Launched at IFA 2015 as a direct competitor to the Nvidia Shield, Predator 8 is one of many new additions to Acer's burgeoning range of Predator hardware and maintains the distinctive red highlights that now adorn all of the company's gaming devices.
First impressions? It's really quite ghastly, in my opinion, but then I'm not exactly the target audience here. Plenty of younger visitors to the Acer booth appeared enamoured, so maybe it's an age thing, and if you do like the way it looks, you're probably going to appreciate some of the gamer-orientated features. The most obvious of these are the four 'Quadio' front-facing speakers, which while promising to deliver realistic stereo audio proved difficult to evaluate amid the hustle and bustle of an IFA booth.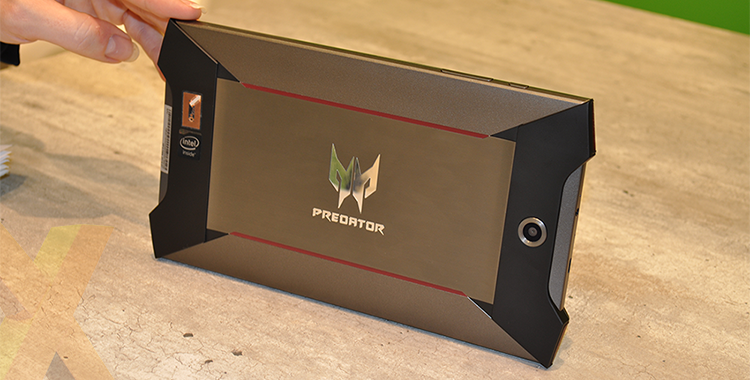 The 8in form factor works well, with Acer's soft-touch panels prioritising a landscape orientation for comfort, and the 1,920x1,200 IPS display offers good viewing angles and a reasonable number of PPI for a device of this size. On the inside, a quad-core Intel Atom x7-Z8700 'Cherry Trail' processor with integrated HD graphics acts as the brains of the operation, and for the most part does a reasonable job of running the Android 5.1 operating system. We did notice a few pauses and dropped frames during use, though that's to be expected from demo units being abused by the masses.
64GB of onboard storage is available as standard, and microSD expansion is supported, giving users the option to add up to 128GB of additional space. Speaking of optional extras, Predator 8 will support Acer's Accurate Stylus (though it isn't included as standard) and we're told that a wide range of accessories will be made available in future. These will include covers, carry cases, travel adapters and gaming headsets.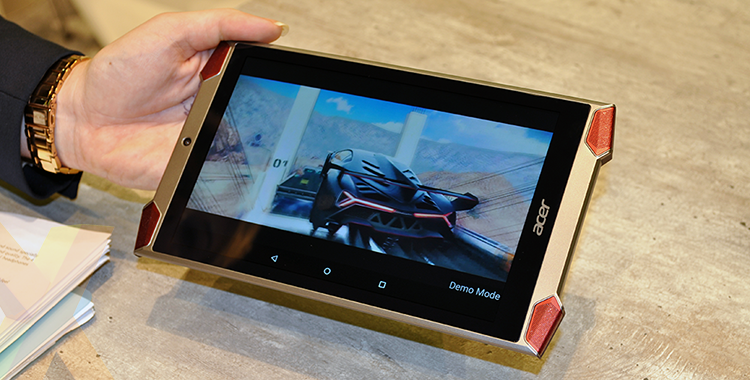 Playing to the tablet's gaming ambitions, Acer has squeezed in a couple of haptic motors that provide a good amount of rumble, though the force feedback is difficult to appreciate in a tablet form factor. You know when it's happening but unless you grip your tablet like your life depends on it, a lot of the feedback will pass you by. What we do appreciate is the fact that the tablet is 8.7mm thin and weighs only 350 grams, making it an agreeable mobile device that's easy to transport.
Predator 8's looks are very much an acquired taste, but this remains an interesting move for Acer, and we wonder if a Windows-based alternative will follow. With a slightly larger display and making use of Windows 10's game-streaming functionality, such a device could be an altogether more intriguing proposition. As it stands, the GT-810 feels like Shield all over again and may struggle to make an impact when it launches in the UK next month priced at £249.