A new report from Taiwan's DigiTimes suggests that Microsoft is readying to mass produce "a head-worn virtual gaming device". The device is expected debut in June - at the E3 show in LA.
In November we heard that Take-Two Interactive CEO Strauss Zelnick had tried an 'enhanced reality' product at Microsoft HQ. He described it as follows: "The demo that I had was at Microsoft's headquarters in a room given over to this [technology], and you had an immersive headset on, and there are characters that appear to be real, and you're interacting with the characters and they're not real, and it's pretty extraordinary," reports GameSpot.
As is often the case, the DigiTimes sources come from the "upstream supply chain," the contract manufacturer companies in Taiwan. The sources indicate that Microsoft's hardware team, developers of the Surface tablet, are making plans with Taiwan manufacturers to mass produce the head-worn device in time for E3, which takes place in June.
As Sony pushes forward with its Project Morpheus is it believed that head-worn VR products will become a new front line in the competition between the PS4 and Xbox One. It's entirely possible that Sony's VR headset will be readied within a similar timeframe to clash directly with Microsoft's plans.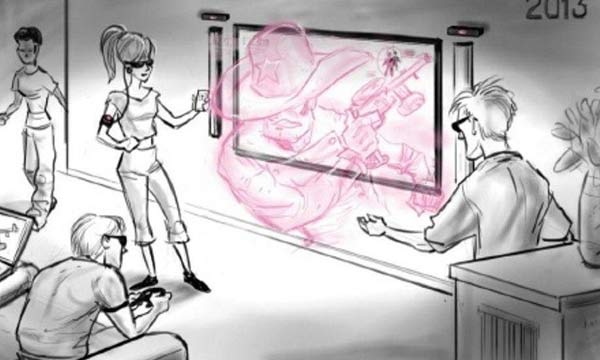 Microsoft is said to have been planning such a VR/AR device since 2010. Previously seen documents contain an illustration, as above, showing people gathered around a large TV wearing special glasses that wirelessly connect with a games console. Other previous mentions of a Microsoft VR/AR project are tagged by the codename 'Fortaleza,' or 'fortress' in Portuguese.