Nintendo is considering a deal with Sharp to make free-form displays for an upcoming gaming or quality of life product reports The Japan Times. The sources indicated that Nintendo is considering a display design with a hole in the middle, said to be "doughnut shaped."
In June this year HEXUS reported on Sharp's free-form display, touted as a way to bring "device design freedom" to electronics industrial designers. The prototype we saw looked like a set of three circular car dials, an undulating form made from a single display panel.
Sharp is bringing forward its manufacturing plans to start production of its free form displays a year earlier than it previously expected to do, says the Japan Times. Mass production is set for early 2016 it says. These innovative new displays will be important to the company as it, like Nintendo, has been struggling with turnaround efforts.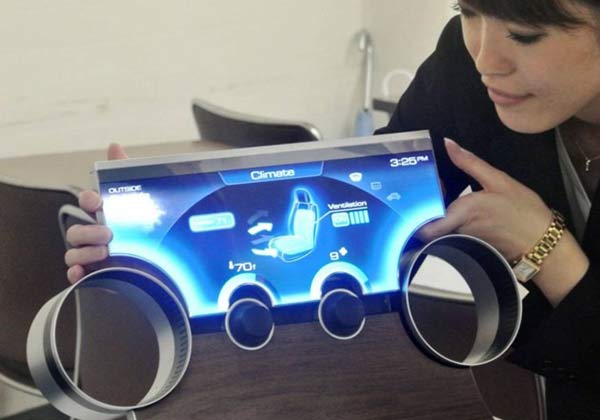 How will Nintendo make use of Sharp's free form display possibilities? The doughnut idea is hard to imagine fitting in with current game designs or media consumption, but Nintendo has come forward with compelling left of field gaming devices before like the original Wii. Looking at the portable market, Nintendo President Satoru Iwata has implied that the 3DS successor will have to be dramatically different "It won't be enough that we simply upgrade," he said. A doughnut screened console sounds like it fits the bill.
In other recent Nintendo news; a slimmer Wii U Gamepad has been spotted in one of Nintendo's official videos, meanwhile overuse of your Wii could lead to strokes, chest bleeds and even incontinence, reports the Mirror…