The Natural Resources Defense Council (NRDC) in the US has published (PDF) a follow up report on the energy use of games consoles, last published in 2008. It shows that while many energy saving technologies have been employed in the latest consoles they still "consume two to three times more annual energy than the most recent models of their predecessors". The Nintendo Wii U bucks the trend by providing higher res graphics and more processing power yet overall consumes less energy than the original Wii.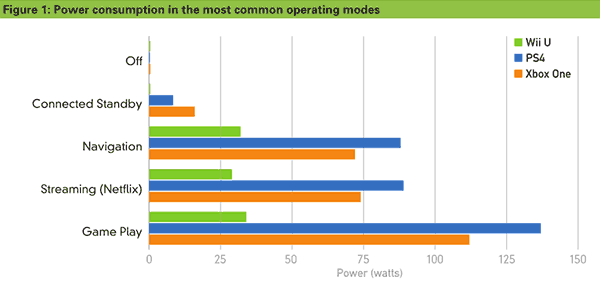 Overall the installed user base of consoles in the US will use roughly 10 billion kilowatt-hours of electricity annually if/when all the previous gen users move to next gen. This will mean consumers will be spending $1 billion p.a. to run their consoles, $400 million of that is eaten up while the consoles are in standby mode.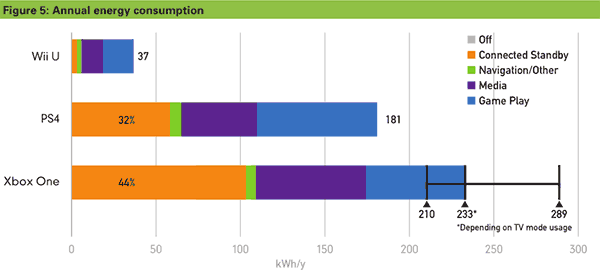 So it looks like standby uses a large proportion of the energy consumed. The new Xbox One is particularly bad for sucking up electricity when in standby, as it's waiting to hear the magic words 'Xbox On'. Also consider that if you want to use your new console to watch a film, then it will be using "30 to 45 times more power to stream a movie than a dedicated Apple TV or Google Chromecast".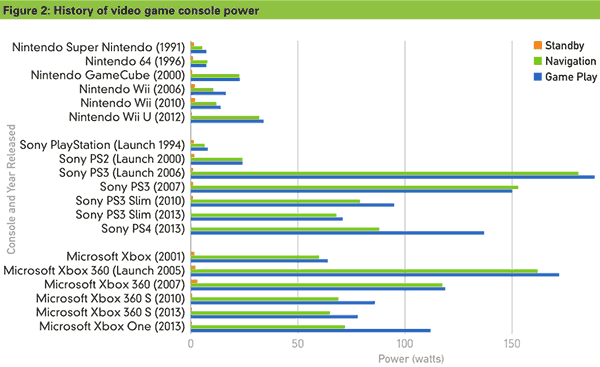 PS3 and Xbox 360 launch models were worst offenders
While some tech news sites have tried to spin this report to say the next gen consoles are using up more energy than ever, the NRDC historical chart shows that previous generation Sony and Microsoft launch consoles used considerably more juice than the next gen launch consoles. It will be interesting to see if both the PS4 and Xbox One get much more energy efficient over the coming years, similar to the way their predecessors were refined. That may be largely down to AMD's progress this time around.