The final design for the GameStick games console Kickstarter project was revealed today by developer PlayJam. The new controller design is quite a departure from the original, which was illustrated at the outset of the GameStick project, and it is much more curvaceous and ergonomic looking. The Android powered console on an HDMI stick has also been upgraded and tweaked due to the project easily surpassing various "stretch goals" on the Kickstarter site.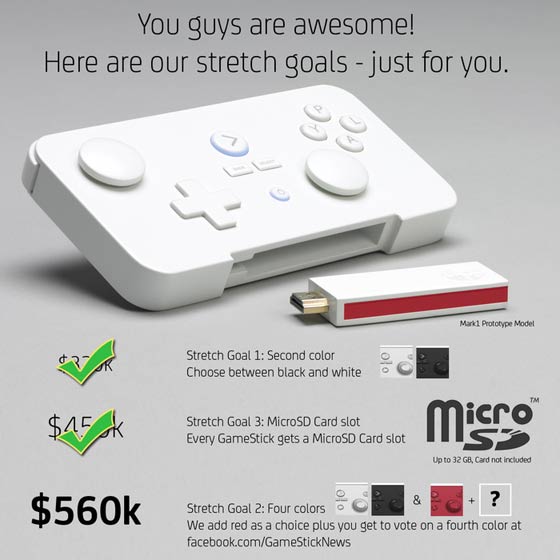 GameStick before the redesign
"Putting Big Screen Gaming In Your Pocket"
To recap, GameStick is another Android powered big-screen games console wannabe. The USP of the GameStick is its supreme portability; the controller is the portable case for the games console, which itself looks like a common-or-garden USB thumb drive, except that it is an Android computer on an HDMI stick.
The $79 GameStick is featured in the video above, presented by Jasper Smith, CEO of PlayJam and GameStick creator. Since the video was made the GameStick product has been developed and got the following enhancements, partly due to stretch goals; more colour choices, MicroSD card expansion slot and a compete re-design of the controller itself.
Technical specifications of the PlayStick
Processor - Amlogic 8726-MX (dual-core Cortex A9 chip at 1.5GHz, along with a dual-core Mali 400 GPU at 400MHz)
Memory - 1GB DDR3 / 8GB FLASH
Content Download Manager w/ cloud storage for games.
WiFi - 802.11 b/g/n
Bluetooth - LE 4.0
O/S - Android Jelly Bean
Controller - Bluetooth, 3 mode controller: gamepad, mouse and keyboard with support for up to 4 controllers.
Full 1080p HD video decoding
40GB of internal storage and MicroSD card expansion slot
MHL support to take power directly from the HDMI slot (Power options are also available for older TVs)
Support for XBMC & DLNA from Sept via optional firmware update.
Support for iOS and Android mobile devices to be used as controllers
The GameStick is available for $79 plus shipping and estimated to be delivered during April 2013. If you pledge $109 or more the GameStick will come with a wireless charging dock (you get 40 hours of play per charge) and a carry case.
The redesigned controller
You can see the original boxy looking controller above and the new more ergonomic design below. Redesigning the controller was done following feedback from Kickstarter backers and "after much deliberation and many hours with CAD programs, prototype models, plasticine and even more time with our controller engineering team". It definitely looks improved to me.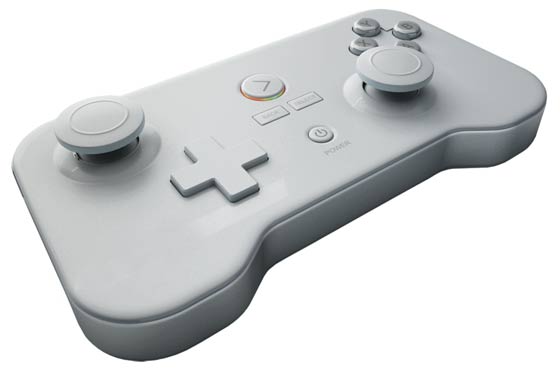 The new GameStick design
The obvious competition - the OUYA console
There are lots of similarities between this GameStick and the OUYA console. The OUYA is a fair percentage more expensive at $99 and larger/less portable but also has more power thanks to its Tegra quad-core processor. OUYA is also making changes to the standard controller; improving the D-pad, following developer feedback. In further OUYA news, it was recently revealed that Xbox 360 wireless controllers, Sony's latest DualShock controllers, Nintendo Wii remotes and even the Logitech G25 wheel work with the OUYA after a fiddle with the console in root mode.
GameStick Kickstarter project closes soon
One more thing about the GameStick – the Kickstarter project finishes in about 68 hours. If you want to secure one of these portable games consoles at $79 + shipping it might be best to do it within the next two and a half days.