An employee at Blockbuster UK has leaked screenshots of what is purported to be the list of Nintendo Wii U launch titles. The screenshots of the Blockbuster UK stock system search screens shows 25 games and 2 consoles listed for the "WiiU" query.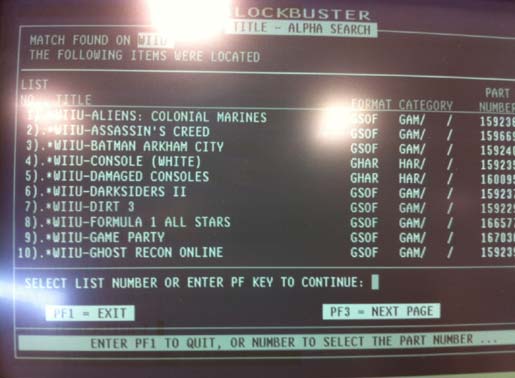 The full list of "launch titles" published in the leak at GoNintendo.com is as follows.
Aliens: Colonial Marines
Assassin's Creed
Batman: Arkham City
Darksiders II
Dirt 3
Formula 1 All Stars
Game Party
Ghost Recon Online
Just Dance 4
Killer Freaks from Outer Space
Marvel Super Heroes
Metro: Last Light
Monsters Party
New Super Mario Brothers Mii
Ninja Gaiden 3
Pikmin
Rabbids Party Land
Raving Rabbids
Rayman Legends
Shield Pose
Splinter Cell 6
Sports Connection
Tekken
Your Shape 2013
Zombie
Some of the titles in the list have been previously announced but some others are unannounced or unknown titles. Officially the launch games lineup will be unveiled at the E3 event in Los Angeles next month. Only then we will know if this Blockbuster UK list is accurate.
The Wii U launch is crucial for the future of Nintendo as a games hardware company, as we know from the recent poor results. A strong launch campaign and equally strong launch games lineup is imperative, will these titles be enough to propel the console to a sustained bestseller position? Lets hope the prices of the console and games are competitive in the first instance.