Remember when Microsoft tried its hand at the gaming keyboard market with the launch of the SideWinder X6 back in 2008?
Well, almost a year and a half later, it's backing up that high-end ambition with its second gaming keyboard - the SideWinder X4.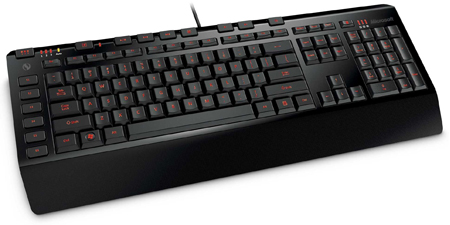 Microsoft's latest - pictured above - isn't as extreme-looking as the $80 SideWinder X6, but it is comfortably cheaper, with the SideWinder X4 set to arrive in stores this March priced at $59.99.
Gamers can look forward to what Microsoft calls "the industry's most advanced anti-ghosting technology" - developed for gamers by the company's Applied Sciences Group no less - and the consequent ability to press up to 26 keys at once.
We're not convinced anyone will actually need to press 26 keys at once, but there are a handful of other useful gamer-orientated features, too - including macro recording, a new macro repetition function, an adjustable backlight and both mode and profile switching.
Nifty-looking bit of kit, but now you're faced with that impossible question; should you spend another $20 and go for the all-singing, all-dancing SideWinder X6 with the switchable keypad and volume and backlight dials? You're on your own on that one.