We knew it was coming, but Microsoft has today officially announced its SideWinder X6 keyboard at the Games Convention in Leipzig, Germany.
The keyboard, pictured below, is dubbed as "the most versatile gaming keyboard on the market", and gets that alias courtesy of the switchable keypad that can be attached to either side of the keyboard.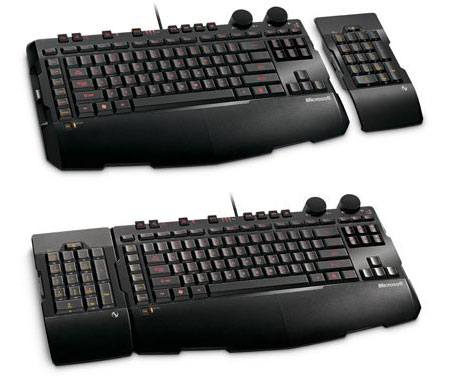 That all-new keypad has a few tricks up its sleeve, too. It acts as your run-of-the-mill numpad when in "normal" mode. Switch to "game" mode, and it becomes a fully-programmable macro pad - allowing users to store up to 90 macros per game.
The switch is made at the push of a button, and there's an LED to let you know which mode you're in. That'll help make sure auto-fire isn't enabled whilst working with your spreadsheets.
There's a selection of nice touches worth noting, too. The SideWinder X6 has two-colour adjustable backlighting; red on all your standard keys, and amber on your macro keys. There's a selection of media keys, and the two round bits up top are the volume and backlighting dials.
Even the WASD keys have been given a little tweak - they feature front-facing lighting to make them more visible. They are, after all, the most common gaming keys.
But, what's a SideWinder keyboard without a new SideWinder mouse? Those looking for a desktop-combo may welcome the introduction of another new SideWinder product, the X5 mouse.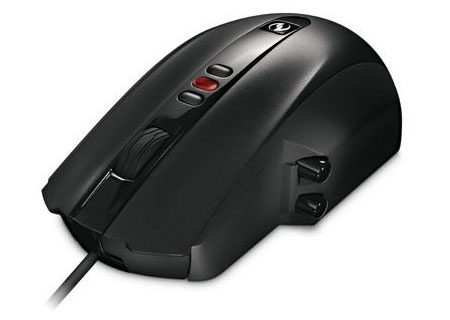 It isn't quite as interesting as the X6 keyboard, but it packs nine buttons - five of which are customisable, and an adjustable 2,000 DPI laser tracking engine.
Microsoft states that these new peripherals are "only the beginning", so we're expecting it to rain SideWinder goodies throughout 2009.
Both the SideWinder X6 keyboard and SideWinder X5 mouse will be available in September, priced at $79.95 and $59.95, respectively.
Official press release: Transform With Microsoft's New SideWinder X6 Keyboard; Industry's First Switchable Key Pad Moves From Work to Play