HEXUS has reported upon the Smach Z gaming handheld PC a number of times throughout its gestation. It has been a long process, with our first report on the handheld published back in 2015 - and that was a continuation of a project dubbed the 'Steam Boy', from further back in time.
Now it is promised that the project is really close to bearing fruit. At E3 in Los Angeles the portable gaming PC will be shown off in its final hardware form and the firm is taking pre-orders on a choice of three models with varying amounts of RAM and storage. Pre-orders get approx 10 per cent off what are touted as standard retail prices set for general availability.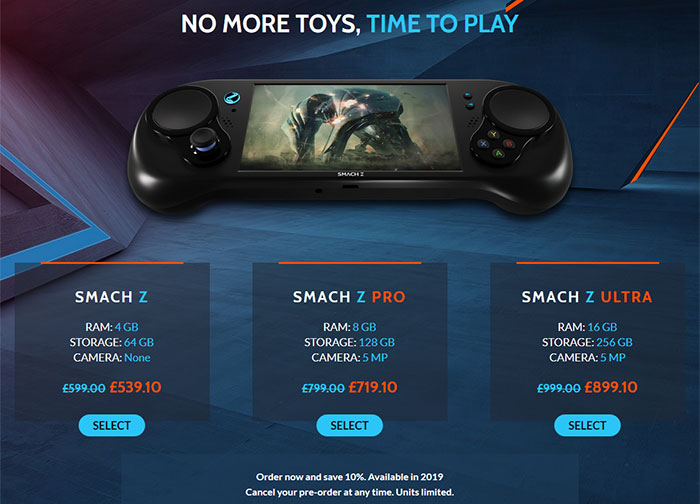 Smach Z – 4GB RAM/64GB storage/no camera for £539 / $629 (list price £599 / $699)
Smach Z Pro – 8GB RAM/128GB storage/5MP camera for £719 / $809 (£799 / $899 list price)
Smach Z Ultra – 16GB RAM/256GB storage/5MP camera for £899 / $989 (£999 / $1099 list price)
Other key specs and features of the portable include; a Ryzen Embedded V1605B SoC with AMD Radeon Vega 8 graphics, Linux or Windows 10 compatibility, a 6-inch FHD touchscreen, twin haptic touch pads, and a plethora of other joysticks and controls, Wi-Fi, Bluetooth, USB Type-C, Type-A, and micro USB ports, DisplayPort, and a microSD card slot, plus a fast charge battery (45mins) that lasts between 2 to 7 hours of gaming dependent upon the title and screen brightness etc.

The Smach site makes it clear the attraction of this portable. It can play "more than 20,000 games out of the box, from Indies to AAA. Steam, GOG, Origin, Itchio, Battle.net, UPlay..." Furthermore, it has enough power to make modern AAA PC games such as GTA 5, Doom, Just Cause 3, Battlefield 1, PlayerUnknown's Battlegrounds, Crisis 3, Metro: Last Light, Project Cars, Deux Ex, Far Cry Primal, The Division, Civilization 5, Forza 7, Destiny 2, Arma 3 etc playable.
Example frame rates, from the firm's own testing, are as follows:
The Witcher 3 (720p Medium settings) ~ 40 FPS
Alien: Isolation (1080p Low settings) ~ 50 FPS
GTA 5 (720p Normal settings) ~ 60 FPS
League of Legends (1080p High settings) ~ 60 FPS
Rocket League (1080p Normal settings) ~ 60 FPS
Dark Souls 3 (720p Low settings) ~ 40 FPS
Despite the series of delays seen throughout its history, perhaps this time the Smach Z will meet its goal of hardware general availability this year.