Cooler Master has announced that its MasterRide Truck is ready and has set off on a European tour. The truck is rather impressive looking with its co-ordinated Cooler Master purple colour scheme and inside it packs 12x powerful gaming PCs. This new truck isn't to be confused with the much smaller MasterRide (4x gaming PCs) which went on tour last year (to places such as Scan, Aria PC, and Novatech in the UK).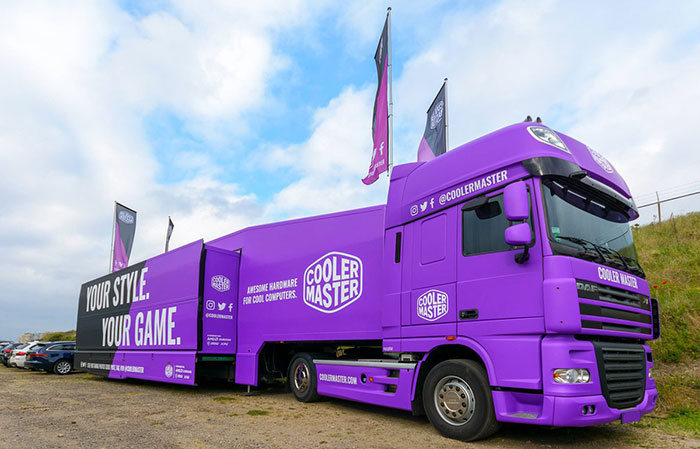 The Cooler Master MasterRide Truck has been described as the "ultimate mobile Lan Party". When parked up the side panels open up to show sliding glass doors and the truck compartment automatically extends outwards. Moving up the steps and intro the truck you will find 12 powerful gaming PCs which use a wide range of Cooler Master PC components and accessories, of course, as well as components and peripherals from the likes of MSI, Samsung, AMD, and XPG. In some shots you can see that above each monitor and RGB LED lit system there is a second monitor/TV to show off the action for observers.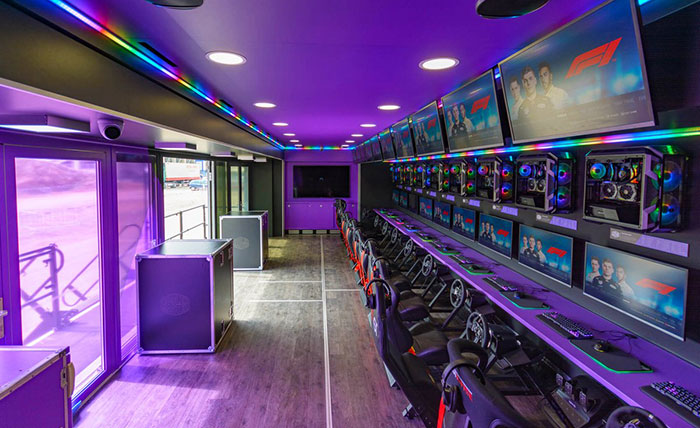 System components:
AMD Ryzen 7 2700 Processor
MSI X470 GAMING PRO CARBON ATX Motherboard
MSI GeForce RTX 2070 8G GPU
Screen: Samsung U32H850
Cooler Master 240mm Mirage CPU Cooler
PSU: Cooler Master V1000 Platinum MPZ-A001-AFBAPV-EU
Cooler: Master Case H500M MCM-H500M-IHNN-S00
Memory: XPG SPECTRIX D60G 3000 16GB Kit
SSD: XPG GAMMIX S5 512GB + SU800-1TB
Cooler Master gaming accessories:
Cooler Master Chair DX Racer Formula
Cooler Master Headset: MH-752
Cooler Master Mouse MM830 MM-830-GKOF1
Cooler Master Mouse pad MP860 MPA-MP860-OSA-N1
Cooler Master keyboard MK730 MK-730-GKCM1-US
In addition to the above you must have noticed that the racing chairs are accompanied by 'F1' steering wheel and pedals, which will be good fun for various racing games.
If you are hoping to see the Cooler Master MasterRide in your locality or at a show you are planning to visit, keep an eye on the Cooler Master Twitter page for subsequent announcements.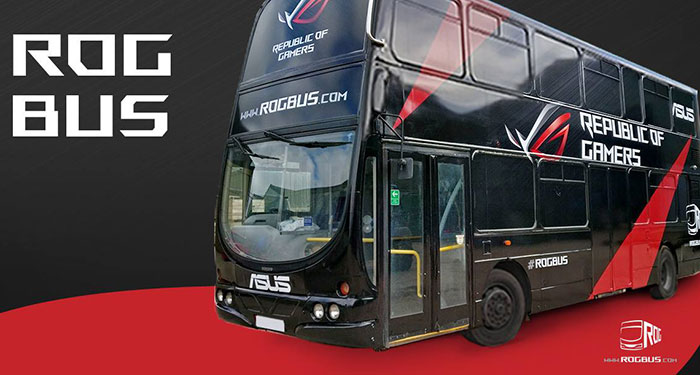 Asus ROG Bus
Cooler Master isn't the only PC gaming road warrior. Asus has its ROG Bus in the UK, which it claims is (or was) the "UK's No.1 travelling PC gaming experience". Asus says it is fully equipped with the latest Asus ROG laptops and desktops. The ROG Bus was last seen at the Call of Duty World League event in London on 3rd May. You can keep up with and perhaps catch the ROG Bus by keeping an eye on its official Twitter account (linked).