The Sinden Lightgun has blasted past its Kickstarter funding goal of £25,000 and raised over £135,000 so far (half way through the project, with 2 weeks left). It is a great success for Sinden Technology, which seeks to bring fast-paced lightgun high-jinks to PCs using LCD screens using an "entire new technology".

If you played lightgun games on the older consoles using CRT TVs you might have been disappointed with the LCD HDMI TV generation successors. I know I was. Playing lightgun games on the Sega Dreamcast and a CRT TV, for example, was fluid and fun. Several years later with a Nintendo Wii in the household it was a surprise to see how the lightgun cursor seemed to sway behind my actions. Apparently the same laggy feeling was evident with PS Move controllers used in PlayStation lightgun games.
The Sinden Technology founder, Andy Sinden, developed the Sinden Lightgun to deliver fluid lightgun gaming to Windows and Linux PCs using LCD monitors and TVs. The basic premise behind the technology is that a camera in the gun recognises the rectangle of your TV border and thus it doesn't need a sensor bar(s) like the Wii and PS Move style solutions. Furthermore, this design, its high-speed camera and dedicated CPU, mean it doesn't need to be calibrated and it can add 3D user movement in games that support it.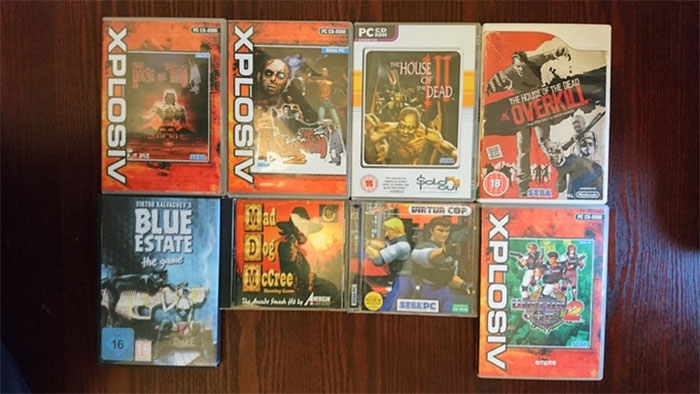 The Windows and Linux drivers map the lightgun to behave like a mouse and thus it is easy to be compatible with a multitude of games, old retail lightgun ports for PC (as shown above), and emulators including classics available via MAME. At the time of writing the Linux support (like the 3D perspective support) is said to be "experimental". However, the designer has tested the Linux support with a Raspberry Pi (Raspian) and says it is possible to make a good retro lightgun system using RetroPie.
The hardware you see in videos could be described as beta. It is a refinement of an earlier version but in the finished shipping version there will be an additional 4 assignable buttons (therefore 8 in total) for easy menu navigation and additional actions. It reloads via 'pump action' by default. Recoil functionality is still in development. With the strong backing of this project I would hope for appropriate investments to make this as good as possible for a gen1 device.
Lightgun games that work with the Sinden Lightgun:
Duck Hunt
Time Crisis 1/2/3
Virtua Cop 1/2/3
House Of The Dead 1/2/3/4/Overkill
Point Blank 1/2/3
Terminator 2 Arcade
Star Wars Trilogy
Jurassic Park: Lost World
Mad Dog McCree
Battle Clash
Wild Gunman
Lethal Enforcers
Area 51
And many many more.
If you are interested in the possibility of using a lightgun on your Windows or Linux PC, there are still over two weeks left to back the project. Pledging £80 or more will net you a single Sinden Lightgun, the recoil version has has a significantly higher starting pledge amount of £130 or more.