An intriguing new product image has been shared by well known Windows leaker Walking Cat. While the original source had no comment to share upon the product's purpose, Windows Central claims the device is "a new Xbox controller focused on improving access to gaming for those with accessibility needs".
Microsoft's work on accessibility is important as it controls the leading desktop computer OS and wishes to lead in consoles and personal assistants too. Last year we saw research projects championing eye tracking for Windows control, and earlier that year, celebrating Global Accessibility Awareness Day, Microsoft announced Windows upgrades for people with low vision or who are blind, people with hearing loss or deafness, and gamers with physical disabilities. Much more recently, a week ago, Microsoft announced the $25 million AI for Accessibility programme.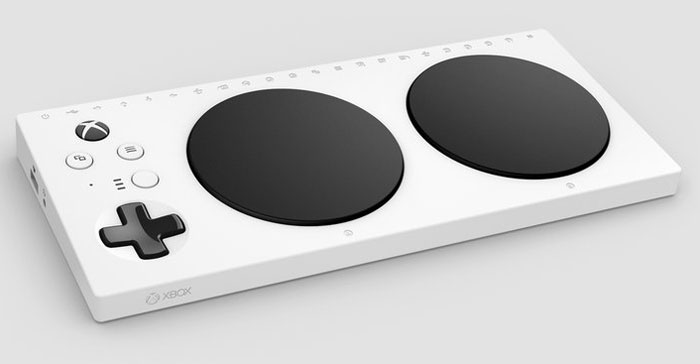 An Xbox One controller with the focus on accessibility, as pictured above, sounds like a natural extension to Microsoft's current projects. No one has any official specific detail about the controller, or how it works, but Windows Central does have some logical ideas about its functionality.
Across the top of the controller you can see light grey icons which represent the full gamut of the Xbox controller's functions. They might be touch-sensitive, they might light up, we will have to wait and see. The controller is dominated by what are said to be large A and B buttons. I can't see the latter writing on the picture I downloaded straight from the Twitter post. On first impression I thought of them as being twin large circular touch pads, as in the laptop sense, but there is no indication that this is the case.
Elsewhere you can see a directional controller and standard controller buttons next to a 3x LED status panel. On the left side of the controller is what appear to be a USB connector port and a 3.5mm audio jack.
UPDATE: The official product page with further information about this product for PC and Xbox is now live. You can also watch the product demonstration video, embedded below.
"Designed primarily to meet the needs of gamers with limited mobility, the Xbox Adaptive Controller is a unified hub for devices that help make gaming more accessible. Connect external devices such as switches, buttons, mounts, and joysticks to create a custom controller experience that is uniquely yours. Button, thumbstick, and trigger inputs are controlled with assistive devices (sold separately) connected through 3.5mm jacks and USB ports."