According to a report published by The Information, via Liliputing, Google is planning to enter the streaming games business. Google already has a decent hold on the mobile gaming field, via Android and its Play Store, but wants to muscle in on console territory, says the report. It would be going head to head against established services like Nvidia GeForce Now and PlayStation Now. It is yet another attempt to launch 'the Netflix of games', say sources. With Google's experience it might be better making 'the YouTube of games' but it would probably like more profits for its endeavours.
The games streaming service from Google is codenamed 'Yeti' according to reports. Initial tests of the service used Chromecast dongles as the TV-connected streaming device. However, that doesn't seem to have been up to scratch as Google in now said to be working on developing a new box and game controller instead. That it was considering the Chromecast piggyback hints towards a value priced games streaming service.
Google's service would make use of its massive cloud server resource - its services are often some of the fastest online, wherever you travel in the world. Such resources bode well for its game streaming performance.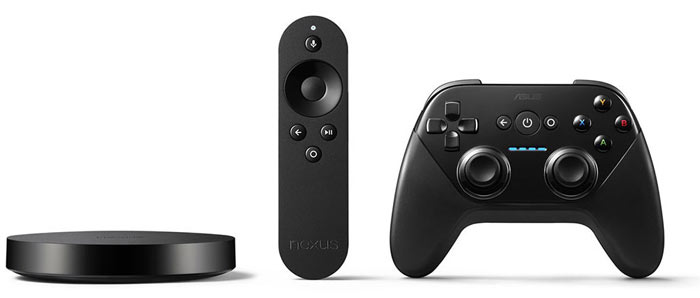 Google Nexus Player, Android gaming with a joypad, from 2014
Games developers are said to have been in discussions with Google about Yeti. Such talks are likely to concern licensing, royalties, and that side of the business rather than new games development and so on. Before kick-starting Yeti, Google would have to gather all the necessary permissions at keen prices, I would expect. So far Google hasn't commented upon the rumours. Google I/O 2018 runs from 8th-10th May so is one possible not-too-distant platform for an announcement.