At 4am this morning (UK time) the Nintendo Switch Presentation 2017 kicked off in Tokyo. The whole event lasted about an hour and you can watch a full subtitled video below. Probably the key information from the presentation was that the Nintendo Switch will be released worldwide on 3rd March 2017, and it will be priced at US$299 / GBP£279.
Skip forward to 35 minutes and 30 seconds for the presentation to begin.
"Nintendo Switch is a brand-new kind of home gaming system that offers a wide variety of play modes," said Nintendo President Tatsumi Kimishima. "We will introduce the world to new experiences made possible by the unique characteristics of the Nintendo Switch hardware and the Joy-Con."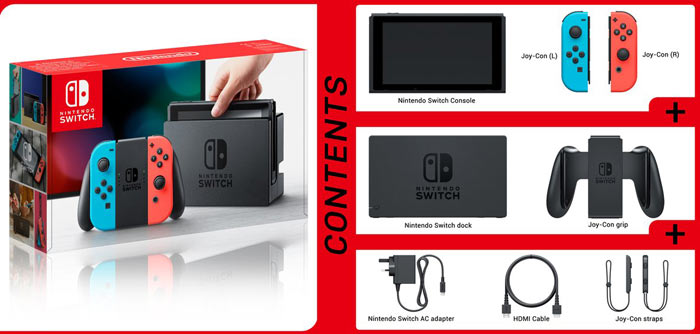 Nintendo detailed what would be in the box if you purchase a Switch. For their $299/£279 outlay buyers will receive:
The 6.2-inch capacitive multi-touch tablet console with kickstand
A Nintendo Switch dock (which holds the main console and connects it to a TV)
Joy-Con (L) and Joy-Con (R) controllers
A Joy-Con grip (to connected left and right Joy-Con parts to make a single controller)
A set of Joy-Con wrist straps
An HDMI cable
An AC adapter
Two packs will initially be available with the above contents; one with a pair of grey Joy-Con controllers, the other with a Blue and a Red controller.
Further details about Joy-Con use were revealed by Nintendo. As we have already seen, the controllers can work together with the Joy-Con grip or either side of the main console. The L/R controllers can also work singly and independently - for two player action for example. Both Joy-Cons have an accelerometer and gyroscope motion sensor, 'realistic' and 'advanced' HD Rumble feedback, plus a full set of buttons necessary for gaming.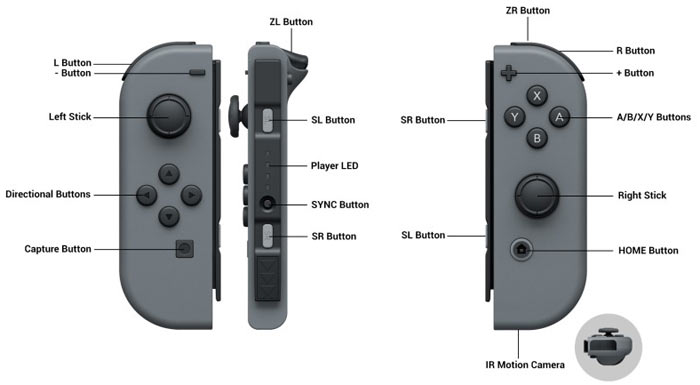 Right and Left Joy-Con controllers have a couple of unique qualities. The left controller has a capture button for taking screen photos and sharing with friends on social media. Meanwhile the right Joy-Con includes NFC for amiibo figures plus an IR Motion Camera that can detect the distance, shape and motion of nearby objects in specially designed games.
Nintendo revealed that the main console unit will offer USB Type-C charged battery life of 3 to 6 hours depending on game. Up to 8 consoles can be connected for local wireless play. Online multiplayer is also supported. Furthermore, Nintendo announced that a new online subscription service that will begin with a free trial at launch (online service launch will be in autumn).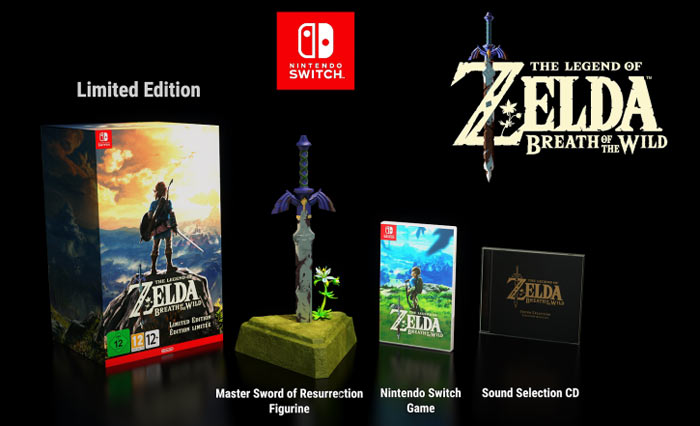 In other important news regarding the Switch, we saw promises of games on the way from Nintendo and big-name third parties. Nintendo will be delivering The Legend of Zelda: Breath of the Wild, Mario Kart 8 Deluxe, Splatoon 2, Super Mario Odyssey, and a few new games making the most of the Joy-Con controllers.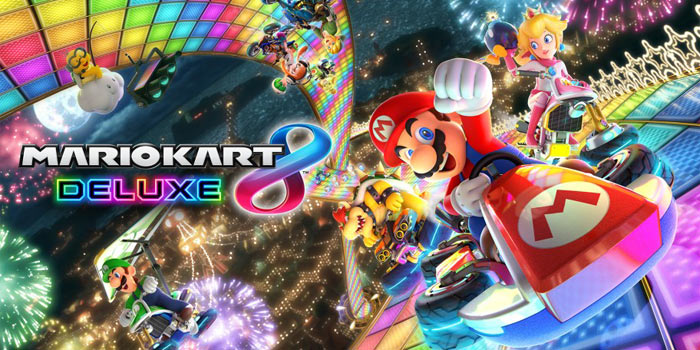 Third party gaming support will be delivered by Activision Publishing Inc., Electronic Arts, Take-Two Interactive, Ubisoft, Warner Bros. Interactive Entertainment and major Japanese publishers. It is noted that for the first time Bethesda will be launching titles for a Nintendo console. Major franchise updates, such as new versions of EA Sports FIFA, The Elder Scrolls, NBA 2K, and Minecraft, are all promised.