Games peripheral specialist Mad Catz has finally outed the release date, specs and price of its own OUYA-rival microconsole. The pre-order page for the Mad Catz MOJO is now available including many countries in Europe, the USA and Canada. The headline facts about this diminutive new console are that it runs Android 4.2.2, is powered by a 1.8GHz Nvidia Tegra 4 SoC backed by 2GB of RAM and 16GB of internal storage, it is bundled with a C.T.R.L.R Mobile Gamepad and an 1.5m HDMI cable and it costs £219.99 in the UK and $(or €)249.99 elsewhere.
Mad Catz is pushing the new console as a way to play all your favourite mobile games on your big screen HDMI equipped TV. The firm has chosen to leave the console open to all kinds of stores including Google Play, TegraZone, Amazon and others. The console design is appealing and Mad Catz is a gaming peripheral maker with a good track record. The C.T.R.L.R Mobile Gamepad is, I estimate, going to retail for about $100 on its own, looking at what the firm currently offers in controllers.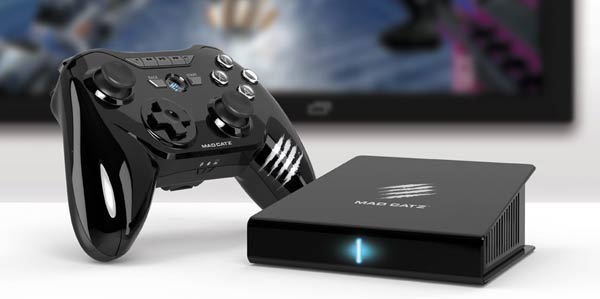 The Nvidia Tegra 4 SoC is highlighted in Mad Catz's promotional blurb and indeed it has a performance advantage over well known rivals like OUYA (£99) and GameStick (£79) due to this. "Don't let the sleek design or small size fool you. M.O.J.O. is one powerful beast, with the strength of NVIDIA's Tegra 4 mobile processor speeding up to 1.8GHz. Stunning visuals coupled with lightning-fast performance create highly impressive gameplay," gushes the product info page.
Voluntarily admitting you might get bored of Android games; "Tired of crushing candy or flinging birds? No problem!" Mad Catz says that the console is a good choice for watching streaming media from the likes of Netflix or Hulu, further describing the machine as "your ultimate all-in-one gaming and media centre".
Mad Catz MOJO specs
NVIDIA Tegra 4 T40S 1.8GHz Processor
16GB Internal Storage + MicroSD Flash Slot which supports cards up to 128GB
2GB RAM
Android 4.2.2 (Jelly Bean) Operating System
Pre-installed Google Play and NVIDIA TegraZone Apps
Wi-Fi b/g/n Support, Bluetooth v2.1 + 4.0 Support
USB 3.0 Port, USB 2.0 Port, HDMI Out, 3.5mm Headphone Socket, 100Mbit Ethernet Socket
Bundled accessories include: HDMI Cable (4.9ft/1.5m), AC Adapter, C.T.R.L.R Mobile Gamepad with USB Nano Dongle, Travel Clip and 2x AAA Batteries

Eurogamer is of the opinion that the new MOJO is probably more powerful than is required, even by the vast majority of TegraZone optimised titles. Also with a comparable spec to the Nvidia SHIELD and a comparable set of physical controls playing most Android titles "didn't work out too well" as the games tend to be touch orientated and aimed at a small screen experience. Eurogamer also pointed out that MOJO will have to compete with cheaper current generation consoles with great PS3 and Xbox 360 bundles now available sub-£200 prices.
Has this new microconsole got any chance?