Upper-body strength, here we come
Once installed, the top-most bar must be used for the chin-ups, and unlike regular between-door bars, the Powerbar stands at roughly the same height as the top of the door frame. You won't, therefore, struggle to keep your feet off the ground. At 6'3in tall, I've had no problem using it.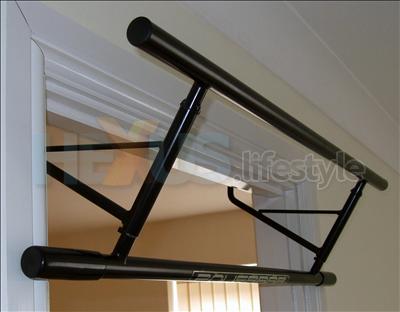 It isn't only about chin-ups, either. Though they are the primary purpose of the Powerbar, it can also be used for pull-ups and leg raises whilst mounted, or inclined push ups when placed on the floor.
When in use, the Powerbar works flawlessly. There's no movement in the bar itself, and it feels as solid as any chin-up bar you're likely to use. With its well thought out design, there's plenty of room for even taller users to carry out a variety of chin-up exercises. For the shorter users, however, the bar could be out of reach. It's nothing a small stool wouldn't solve, but it's worth bearing in mind.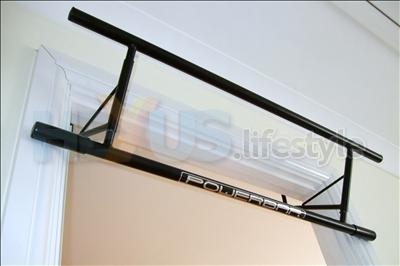 At a cost of roughly £30 including delivery, the Powerbar provides one of the simplest and most effective home workouts for upper body strength. It comes highly recommended to anyone seeking a cheap form of strength training.
HEXUS Where2Buy
The Powerbar can be purchased from UKFitnessSupplies.co.uk for £26, BoysStuff.co.uk for £26.95, and from Gizoo.co.uk for £27.95.

HEXUS Right2Reply
At HEXUS, we invite the companies whose products we test to comment on our articles. If any company representatives for the products reviewed choose to respond, we'll publish their commentary here verbatim.